Disney's 'Moana' Doesn't Need A Stinkin' Love Interest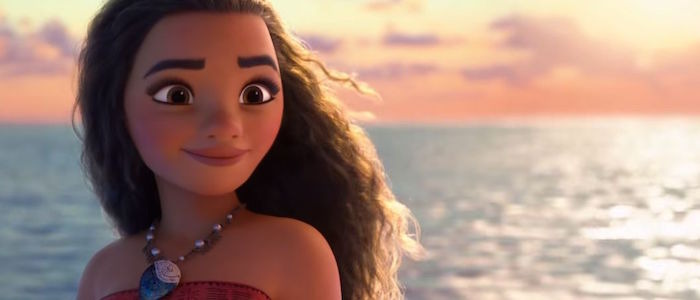 The original Disney princess characters were crafted in a traditional fairy tale mold. They were damsels in distress, beautiful young women who are terrorized by villains for 90 minutes before getting rescued by a bland but resourceful hero. That has started to slowly change over the years, but even tougher-than-usual Disney heroines like Jasmine still needed an Aladdin to rescue them from certain doom.
If recent Disney animated movies have started to bend the princess mold, it certainly sounds like Moana is going to try to shatter it. Directors John Musker and Ron Clements, who previously helmed The Little Mermaid and The Princess and Frog, have revealed that that the titular princess in their movie won't have a love interest at all.
This news comes straight from the film's Comic-Con 2016 panel, which also debuted new footage from the film and offered a few more plot details. Set in the South Pacific 2,000 years ago, Moana follows the 16-year old girl of the title who sets out to recruit the banished demigod Maui as part of a plan to save the world. Moana is voiced by newcomer Auli'i Cravalho and Maui is voiced by Dwayne "The Rock" Johnson, who was the main subject of the film's first trailer. The panel also revealed that Johnson will sing a song in the film that was specifically written for him by Lin-Manuel Miranda, the Tony-award winning writer of Broadway's Hamilton.
But back to the subject of the headline! Don't expect Moana and Maui to have anything more than a friendship, as Musker and Clements say that their film's heroine is on a journey to find herself, not a man. This feels like a natural evolution for the traditional Disney princess in the wake of Frozen, which concluded with an act of sisterly love saving the day after the apparent love interest was revealed to a scheming villain. Disney is really bringing its female characters into the 21st century in a big way – not every animated film needs to end with a wedding.
Moana is set to arrive in theaters on November 23, 2016. This news arrives in the wake of a cute international trailer that showcases Moana's mystical relationship with the ocean.