One More 'Sausage Party' Red Band Trailer Features The Food Fighting Back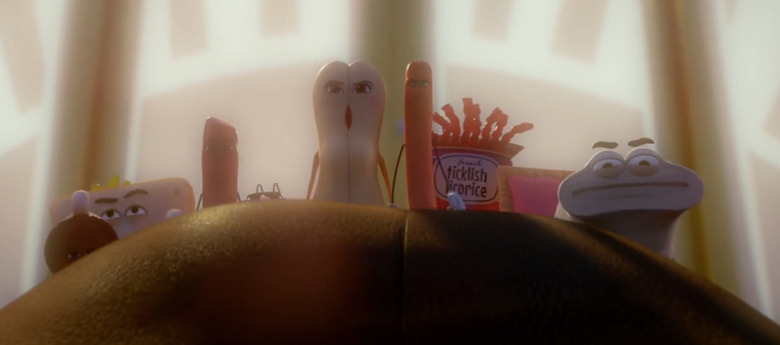 Let's get this out of the way right now. If you're already on board for the raunchy, R-rated animated comedy Sausage Party from Seth Rogen & Evan Goldberg, then you probably shouldn't watch the new red band trailer that was just released. However, if you're the kind of person that likes to watch all the trailers, then we can't stop you from watching this latest tease that reveals much more about what happens after Frank the hot dog (voiced by Seth Rogen) learns what happens to food after it goes to the "great beyond" outside of the grocery store.
It's up to you whether you watch the new red band Sausage Party trailer after the jump.
Sausage Party had a special screening at Comic-Con just last night, and the crowd absolutely loved the insane little animated story that Seth Rogen & Evan Goldberg have been developing for years with the help of animation directors Conrad Vernon and Greg Tiernan. We'll have a full review coming soon, but suffice it to say that you haven't seen anywhere near the craziest stuff from the movie yet.
In fact, despite that this is the second full red band trailer we've received, along with a couple other green band trailers and several TV spots, there's one story element that hasn't been revealed at all in the marketing. We won't ruin it here, but the details concerns the character voiced by Nick Kroll.
The rest of the cast includes Kristen Wiig, Bill Hader, Jonah Hill, Craig Robinson, Michael Cera, James Franco, Paul Rudd, Edward Norton and Salma Hayek. Most of them are playing food, but a couple of them are playing humans. We won't tell you which ones are playing humans though, because there are several voices you likely won't recognize as belonging to some of these stars until you see the end credits.
If you're looking for more from Sausage Party, check out the previously released red band trailer right here.
Life is good for all the food items that occupy the shelves at the local supermarket. Frank (Seth Rogen) the sausage, Brenda (Kristen Wiig) the hot dog bun, Teresa Taco (Salma Hayek) and Sammy Bagel Jr. (Edward Norton) can't wait to go home with a happy customer. Soon, their world comes crashing down as poor Frank learns the horrifying truth that he will eventually become a meal. After warning his pals about their similar fate, the panicked perishables devise a plan to escape from their human enemies.
Sausage Party arrives on August 12.