Voltron Season 2 Announced By Netflix And Dreamworks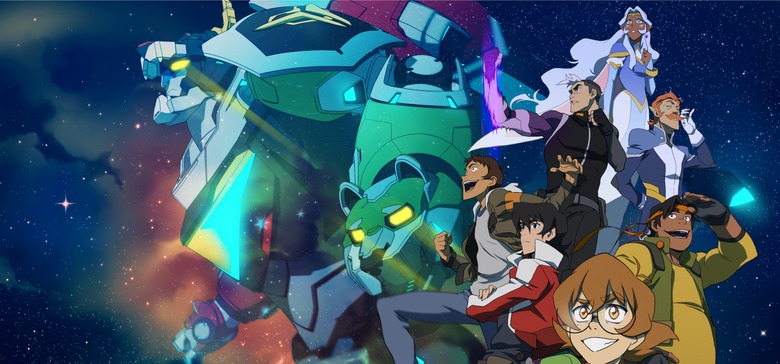 Dreamworks Animation and Netflix announced at their San Diego Comic-Con panel yesterday that Voltron Legendary Defender has been renewed for a second season. The critically acclaimed animated series will return for a second season in late 2016. DreamWorks also announced the release of a soundtrack for season one of the show, featuring 11 tracks from series is now available on iTunes. Hit the jump to read the full press release to learn more about Voltron season 2.
I still have yet to watch Voltron Legendary Defender, but the series has been getting rave reviews from fans and critics alike. For those of you interested, the Voltron Season 2 press release follows below:
DreamWorks Animation and Netflix Confirm Season 2 of DreamWorks Voltron Legendary Defender Coming Late 2016!
Thursday, July 21, 2016 – Following the critically-acclaimed first season of the Netflix original series DreamWorks Voltron Legendary Defender, executive producer Joaquim Dos Santos, co-executive producer Lauren Montgomery and writer Tim Hedrick thrilled fans with confirmation of a second season arriving later this year during their San Diego Comic-Con panel Thursday, July 21.
Joined by surprise guest Steven Yeun, who voices Keith the pilot of the red lion, panel attendees were treated to behind-the-scenes stories, the filmmakers' favorite scenes from season 1 (including that big Pidge reveal), and a sneak peek of what promises to be an epic second season. Picking up in the moments following the season one finale cliffhanger, viewers will follow Team Voltron in the wake of Haggar's disruption of their wormhole as they are scattered across the universe. Season 2 of DreamWorks Voltron Legendary Defender will premiere exclusively on Netflix in late 2016.
DreamWorks also announced the season 1 soundtrack featuring 11 tracks from series is now available on iTunes.
Executive Produced by Joaquim Dos Santos
Co-Executive Produced by Lauren Montgomery
Written by Tim Hedrick
Cast: Princess Allura – Kimberly Brooks (Ben 10: Omniverse, Justice League: War)
Coran – Rhys Darby (What We Do in the Shadows, Flight of the Concords)
Shiro, Black Lion – Josh Keaton (Green Lantern: The Animated Series, Transformers Prime)
Hunk, Yellow Lion – Tyler Labine (Reaper, Tucker & Dale vs. Evil)
Lance, Blue Lion – Jeremy Shada (Finn in Adventure Time, Batman: The Brave and the Bold)
Pidge, Green Lion – Bex Taylor-Klaus (Arrow, Scream: The Series, iZombie)
Keith, Red Lion – Steven Yeun (The Walking Dead, The Legend of Korra)
SEASON 2 OF DREAMWORKS ANIMATION'S VOLTRON LEGENDARY DEFENDER WILL ARRIVE LATE 2016, ONLY ON NETFLIX!