'Daredevil' Officially Renewed For Season 3 [Comic-Con 2016]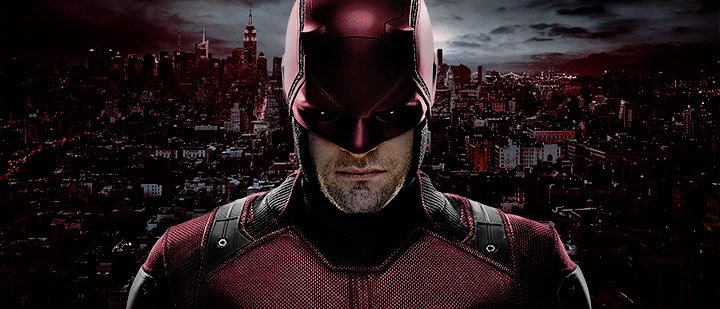 In news that really shouldn't come as much of a surprise, Netflix and Marvel have officially renewed Daredevil for a third season. Considering how big of a success the series has been, this was inevitable – there are people out there with no interest in superheroes or comic books who seem to dig the small screen adventures of Matt Murdock, blind lawyer and self-loathing vigilante. However, you shouldn't get too excited. A new season is at least a year away and that's if we're being optimistic.
The news was revealed at the Marvel television panel at Comic-Con earlier today, where new footage from Luke Cage and the first footage from Iron Fist was screened for an audience of enthusiastic fans. By all accounts, the new footage won over the crowd in a big way...but we'll have the details on those elsewhere. Let's first take a look at this brief teaser for Daredevil season 3, which features no characters and no dialogue, but a lot of shadows, the sounds of men beating the crap out of each other, and a well-timed splatter of blood. Yep, that's our Daredevil.
Next stop: Hell's Kitchen. Daredevil Season 3 is coming soon. #Daredevilhttps://t.co/tkWwJNBLJy

— Daredevil (@Daredevil) July 22, 2016
If Daredevil followed the pattern established by the first two seasons, it would premiere early next year, but that doesn't seem to be case. With Luke Cage premiering in September, the new Iron Fist series taking up early 2017 real estate, and the Defenders crossover miniseries arriving later that year, Daredevil has been displaced. Charlie Cox, who plays the man without fear on the series, confirmed as such during panel: more Daredevil is coming, but The Defenders is taking priority for now. Heck, don't even ask me when the second season of Jessica Jones is going to arrive. We may have to wait until 2018 to see how Daredevil resolves the lingering cliffhangers from season 2.
Still, it's not like the next year will be bereft of troubled New York City superheroes. Marvel's presence on Netflix isn't going away any time soon.