Luc Besson's 'Valerian' Looks Batshit Crazy Fun [Comic-Con 2016]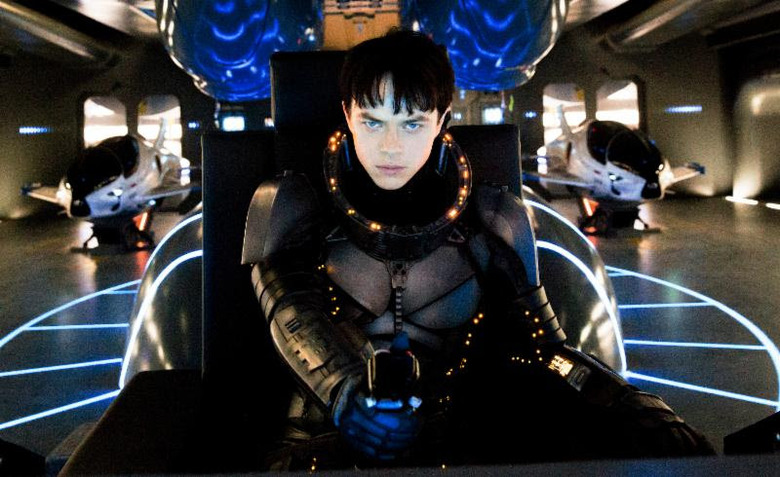 The most interesting presentation Thursday at San Diego Comic-Con International 2016 has to be for Luc Besson's science fiction comic book adaptation Valerian and the City of a Thousand Planets. While the film won't hit theaters until summer 2017, Besson brought some early footage to screen for the fans in San Diego. I knew I was in for some craziness, but I was shocked at how much I enjoyed what I saw. Hit the jump to get a recap of the Valerian Comic-Con footage presented in Hall H, along with some interesting asides from Besson (from an interview conducted offsite), and of course my reaction.
It should be mentioned that Valerian wrapped only six weeks ago, so Besson warned us that the visual effects are not even close to done. He chose four scenes to screen, most of which didn't involve heavy VFX work, to give us a taste of his new film.
The first sequence, scene 141, showed Valerian (Dane DeHaan) running down the hallways of an unfamiliar spaceship. DeHaan is wearing a sci-fi suit that can best be described as looking like something out of Pacific Rim. His partner Laureline (Cara Delevingne) is guiding him where to go over a communicator, and directs him to a dead end.
What follows was an absolutely crazy sequence. Valerian activates his suit, which transforms around his head, and runs straight through the wall. We continue with him in third-person video game POV (Besson claims he's never played any video games) as he plows through not only that wall but other walls in a single seamless shot. At one point he crashes through a wall and there is no ground on the other side. He uses his gun to shoot little pods for him to leap off of like a frog on lily pads, as he continues on his sci-fi parkour run. I can't express to you how cool this shot looked. Besson tells us in the final film it continues even further, lasting over 45 seconds.
Another sequence, scene 183, shows Laureline in a similar spacesuit being escorted by two guardians in green uniforms. She asks them to cuff her, telling them she's getting the urge to escape. When they try to do so, she manages to kick their ass and steal their gun. As she escapes she runs into three creatures with big duck nose faces. The world of the story involves humans dealing with 800 different types of aliens, although Besson says we will only see about 200 different alien creatures in the film. Only. When asked if we get a good sense of the alien designs from the footage, Besson responded, "I don't want to seem pretentious, but you've seen nothing."
The next sequence we screened was scene 51, involving Valerian and Laureline in their spaceship. Laureline is driving and Valerian begins complaining about her choices, sparking a typical married couple argument. Lesson describes the couple as a Mr. and Mrs. Smith-like team, but "humans in a world of crazy." Their ship lands on a desert planet where a group of Mad Max-like scavengers await them. Valerian and Laureline come out dressed like tourists in Las Vegas. It's the weird kind of moment you'd expect from Besson – it's very Fifth Element-like in tone. Besson believes that The Fifth Element was misunderstood in its time, and while he is just as crazy, the world has finally caught up with him so that Valerian will probably be more accepted by today's general audiences.
The next scene shows Valerian walking through a colorful futuristic city district, with all sorts of fun craziness going on in all corners of the screen. Ethan Hawke appears as a guy in a cowboy hat with a nose ring chain who lures him into his club to see a show.
The last and final scene they screened was a continuation of the desert planet sequence shown earlier. Valerian and Laureline are running in their touristy clothes away from a huge monster-like alien creature, which looks like something out of Star Wars. One of the human scavengers remote-controls a big gunner using a futuristic VR helmet, trying to stop the creature from getting our heroes. The duo gets onto a school bus and the group of scavengers try to escape the huge creature, but it jumps on top of the back of the bus and starts tearing the roof apart. Valerian smashes out the front windshield and the duo escapes through the front of the bus as their spaceship meets them in the air.
This was followed by a quick montage of clips from the film, showcasing space battles and creatures big, huge, and small. Overall I was very impressed at how crazy this film looks. It's got a strong Fifth Element vibe mixed with Mad Max, Blade Runner, and Star Wars. The weird and interesting world is a perfect match for Besson's humor and I can't wait to see more of the movie's alien creatures.
Other things I learned from Besson include:
The story takes place over a 24-hour period.
The film will have a running time of about two hours and 15 minutes.
A big scene at the beginning of the film takes place between two different dimensions. Besson said it was insane to shoot and will be crazy to watch.
Besson loved the comic since he was 10 years old and has been trying to adapt it for the screen for a long time now. For years he thought it would be impossible, particularly because there are too many aliens and the world is too weird. But James Cameron's Avatar convinced him it would finally be possible.
The movie will be released in 3D but it wasn't shot in 3D. Besson believes the conversion process is great now and doesn't want to shoot in 3D because the he doesn't want the 3D camera to dictate how he shoots.
When asked about possible sequels, Besson quickly responded, "I can do 10 if you want, I love them"
While the film features a lot of CG, most of the aliens (Besson estimates at least 90 percent) were played by people on set, even if it was just a guy holding out huge limbs for the actors to perform against.
Directed by Luc Besson (The Fifth Element, Léon: The Professional) based on the classic graphic novel series Valerian and Laureline and adapted by Pierre Christin, Jean Claude Mezieres, and Besson, the film stars Dane DeHaan, Cara Delevingne, Ethan Hawke, Clive Owen, Rihanna, John Goodman, Herbie Hancock and Kris Wu. Here is the official synopsis:
Valerian (Dane DeHaan) and Laureline (Cara Delevingne) are special operatives for the government of the human territories charged with maintaining order throughout the universe. Valerian has more in mind than a professional relationship with his partner — blatantly chasing after her with propositions of romance. But his extensive history with women, and her traditional values, drive Laureline to continuously rebuff him.
Under directive from their Commander (Clive Owen), Valerian and Laureline embark on a mission to the breathtaking intergalactic city of Alpha, an ever-expanding metropolis comprised of thousands of different species from all four corners of the universe. Alpha's seventeen million inhabitants have converged over time – uniting their talents, technology and resources for the betterment of all. Unfortunately, not everyone on Alpha shares in these same objectives; in fact, unseen forces are at work, placing our race in great danger.
Valerian and the City of a Thousand Planets will hit theaters on July 21st 2017.