'The Tick' First Look: Starring Peter Serafinowicz And Peter Serafinowicz's Codpiece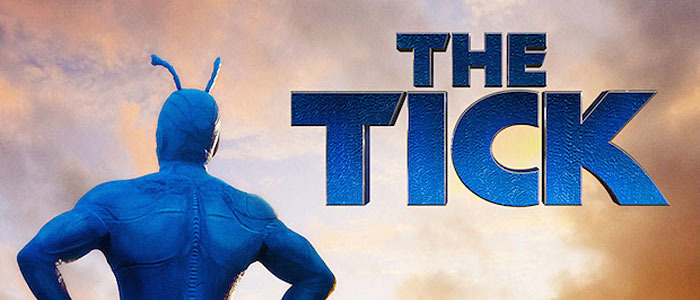 Since his creation as a comic book store newsletter mascot in 1986, the character of The Tick has never left the hands of creator Ben Edlund. By 1988, Edlund was writing and drawing the adventures of this blue-suited superhero in a self-published comic book. In 1994, he created an animated series based on the character and his ensemble of enemies and allies that ran for three seasons. In 2001, he created a short-lived but beloved live action TV show, with the great Patrick Warburton filling out the suit. Now, The Tick and Edlund are back and heading to Amazon's pilot season, where subscribers can watch the first episode of new shows that are under consideration for full season pick-ups and cast their votes on which pilots they enjoy the most.
While you won't be able to sample the show until next month, you can take a first look at Peter Serafinowicz as The Tick, whose new costume is...a little tight in a few key areas.
As you can see in the gallery below, the new costume is instantly recognizable as The Tick, but it's also, well, form-fitting. Since this character has always been a spot-on parody of superhero trends and tropes, there's no way Serafinowicz's totally-on-display ass won't be the subject of a joke or two. You'll also note that one of the images features Whoopi Goldberg interviewing Superian, a superhero played by Brendan Hines on the show.
Although The Tick has traditionally been a very silly and very knowing comedy, Edlund has suggested that the new show will be a little more serious-minded, with the jokes working to serve a more grounded plot. That's the kind of thing that makes me raise an eyebrow – I'm not opposed to a Tick series that also functions as a more dramatic take on this character, I just can't imagine it. Still, I have faith in Edlund. Anyone who has worked as a producer and/or writer on Supernatural, The Venture Bros., Angel, Firefly, and Star Wars: The Clone Wars deserves the benefit of the doubt.
Here's the official synopsis for the new version of The Tick:
In a world where superheroes have been real for decades, an underdog accountant with zero powers comes to realize his city is owned by a global super villain long-thought dead. As he struggles to uncover this conspiracy, he falls in league with a strange blue superhero. The Tick stars Peter Serafinowicz (Guardians of the Galaxy), Griffin Newman (Vinyl), Jackie Earle Haley (Watchmen), Valorie Curry (House of Lies), Yara Martinez (Jane the Virgin) and Brendan Hines (Scorpion). The Tick is executive produced by Ben Edlund (Supernatural), Barry Josephson (Bones) and Barry Sonnenfeld (A Series of Unfortunate Events), directed by Wally Pfister (The Dark Knight), and written by Edlund. The Tick is a co-production with Sony Pictures Television.
The first episode of The Tick will arrive on Amazon on August 19, 2016. If enough Amazon subscribers like what they see, a full season could get the green light.