'Before I Wake' Trailer: Thomas Jane And Kate Bosworth Must Stifle Jacob Tremblay's Dreams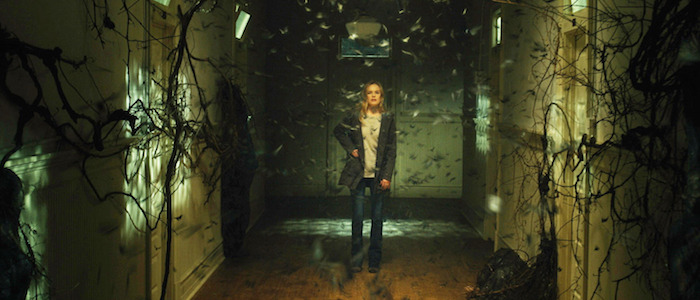 There are a few instances where it's okay to tell your kids to give up on their dreams. For example, if a child dreams of being a dinosaur, you should probably have a gentle conversation about realistic expectations. Before I Wake proposes another more literal take on this parental dilemma: what if your kid's nightmares began manifesting in reality and started trying to jump scare you to death?
The Before I Wake trailer gets right down to business. There's a creepy kid (played by Room's Jacob Tremblay), an even creepier dead kid, Thomas Jane and Kate Bosworth looking increasingly concerned about their predicament, and a whole bunch of gross things suddenly popping up on screen.
Before I Wake has had a slightly tortured history over the years. Originally completed in 2013, the film was acquired by Relativity Media in 2014 and set for a May 2015 release date before being delayed to September of that year. Relativity's financial woes forced the film to be pulled from the schedule altogether for a little while before it was set for April 2016. It was delayed again. And now, unless something goes horribly wrong, it will finally open in theaters this September. The trailer has a release date and everything.
However, Before I Wake now arrives with a bit of a pedigree. Co-writer/director Mike Flanagan is one of the horror genre's rising stars, having directed the polarizing Oculus (a film I like quite a bit) and the terrific home invasion thriller Hush (which was bought by Netflix and can be streamed right now). He's even completed Ouija: Origin of Evil, which is due out in October. That means Flanagan will see three of his movies released in 2016, which is kind of impressive from any perspective. It will be even more impressive if he manages to snag the director's chair on the upcoming Halloween remake.
Barring another disaster, Before I Wake will hit theaters on September 9, 2016. Here's the official synopsis:
In this intense and heart pounding supernatural thriller, Jessie (Kate Bosworth) and Mark (Thomas Jane) decide to take in a sweet and loving 8-year-old boy, Cody. Unbeknownst to them, Cody is terrified of falling asleep. At first, they assume his previous unstable homes caused his aversion to sleep, but soon discover why: Cody's dreams manifest in reality as he sleeps. In one moment they experience the incredible wonder of Cody's imagination, and in the next, the horrific nature of his night terrors. To save their new family, Jessie and Mark embark on a dangerous hunt to uncover the truth behind Cody's nightmares.