'Hands Of Stone' Trailer: Edgar Ramirez Says "No Más"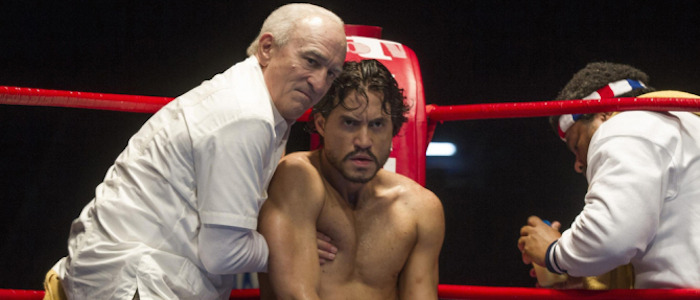 Few sports are as inherently cinematic as boxing. Whether you care for it or not, two men entering a ring armed only with their strength, their speed, and their raw determination is just plain dramatic. It's a game of stunning comebacks and upsets. It's a world of dizzying highs and painful lows. Boxing stories, whether they're based on truth or constructed for the screen, make for good movies.
Hands of Stone is based on one of those "too weird to be anything but true" sports stories, telling the story of Panamanian boxer Roberto Duran, who famously fought Sugar Ray Leonard twice in 1980 with, well, peculiar results. The trailer for director Jonathan Jakubowicz's film is edited to make this look like a more traditional story, but if he follows the facts, there's going to be a lot more going on here.
What transpired between Duran and Leonard was chronicled in the excellent 30 for 30 documentary No Más, a film that paints a fascinating and frustrating portrait of two very different athletes who are unable or unwilling to explain certain key details about their lives and decisions. While that film was an even-handed look at both sides, Hands of Stone looks to place the bulk of the focus on Duran (played by consistently incredible Edgar Ramirez) and his trainer, Ray Arcel (played by Robert De Niro, hopefully giving a shit). Considering the unanswered questions raised in No Más, I'm very curious how this film intends to explore Duran, especially in the aftermath of his second bout with Leonard.
And it's a good looking trailer! The boxing scenes seem appropriately tense in the brief snippets seen here and the attention paid to Duran's early life and connection to his native Panama seem to indicate that the film will really dig into his legacy and his connection to the nation that forged him. Only fools judge movies based on their trailers, but this looks like it could be quite good. Hopefully! Maybe!
Here's the official synopsis, which actually gives away what transpired between the two fighters. Knowing this in advance almost certainly won't harm your enjoyment of the movie (it's a very well-known story), but consider that your spoiler warning and such:
HANDS OF STONE follows the life of Roberto Duran (Edgar Ramirez), the Panamanian fighter who made his professional debut in 1968 as a 16 year old and retired in 2002 at the age of 50. In June 1980, he defeated Sugar Ray Leonard (Usher Raymond) to capture the WBC welterweight title, but shocked the boxing world by returning to his corner in their November rematch, famously saying the words "no mas" (no more.)
Hands of Stone is set to hit theaters on August 26, 2016. You can also check out the first trailer, which arrived earlier this year, right over here.