'Divergent' Finale To Skip Theaters, Become TV Movie And Spinoff Series Instead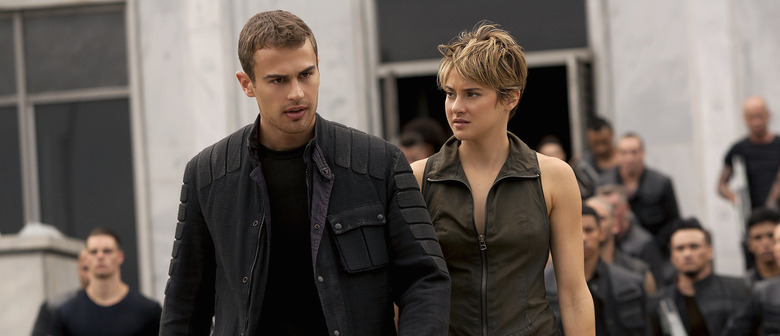 Shailene Woodley's Tris has overcome a lot over the past three Divergent movies, but not even she can overcome audience indifference. Following a weak performance for The Divergent Series: Allegiant this spring, Lionsgate has opted to skip theaters for the planned finale, The Divergent Series: Ascendant. Instead, the dystopian YA saga will conclude with a TV movie that will then launch a standalone spinoff TV series. Variety reports the news but notes that negotiations are still in the early stages. The idea is for the TV movie to wrap up the current storylines involving characters from the first three films. The spinoff series will be set in the same universe, but focus on a new cast. The TV projects do not have a network home yet. It is currently unclear whether the stars of the film series, including Shailene Woodley, Theo James, Ansel Elgort, Miles Teller, and Zoe Kravitz, will return for the Ascendant TV movie.
The Divergent franchise launched in 2012 at the height of the dystopian YA craze sparked by The Hunger Games. Based on the bestselling trilogy by Veronica Roth, the films are set in a futuristic society where citizens are split into factions based on their personalities. Heroine Tris is Divergent, meaning she can never fully belong to any of the groups — which makes her a danger to those in power.
The first couple of films were solid performers, and the original plan was to split Roth's final book into two movies, Allegiant and Ascendant. (Blame Harry Potter for starting that two-part finale trend, which also ) But Allegiant couldn't even come close to matching the box office totals of its predecessors. Its domestic gross was about half that of the previous film, Insurgent.
Making matters even more complicated, director Robert Schwentke dropped out of Ascendant before filming began. Lee Toland Krieger was eventually tapped to replace him but we don't know if he'll remain involved with the project in any capacity now that it's headed to the small screen. Ascendant had been set for a summer 2017 release, where it would have gone toe-to-toe with World War Z and The Mummy, and shooting had been scheduled to begin this summer in Atlanta.
It makes sense that Lionsgate would want to tie up the current arc, even if it's with a TV movie instead of a theatrical feature, but a Divergent TV spinoff could be a tougher sell. If audiences don't care enough about this franchise to turn out for the movie, why would they care enough to tune in for a show? But I'll be the first to admit Divergent just isn't my cup of tea. What say you, Divergent fans — any of you interested in a Divergent TV series about all-new characters?