The 'Rogue One: A Star Wars Story' Jyn Erso Black Series Figure Will Be For Sale At Comic-Con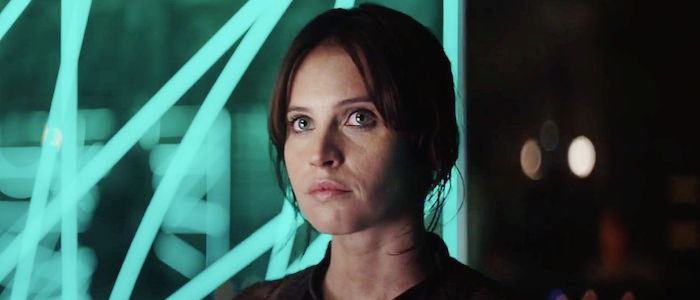 If you're attending San Diego Comic-Con this week, go ahead and add this to your list of must-buy items: the Black Series action figure of Jyn Erso, the Rebel fighter played by Felicity Jones in the upcoming Rogue One: A Star Wars Story, will be one sale at the con...and it will be a Comic-Con exclusive. So go straight to the right booth, money in hand, as early as you can if that sounds like the kind of thing you need in your collection of Star Wars stuff.
Let's run down the details.
The Jyn Erso Black Series figure will be available at booth #3329 and will cost you $24.99. It will be one of three Black Series exclusives available at the booth, with the other being a new Obi-Wan Kenobi figure (complete with tiny holographic Princess Leia) for $44.99 and a new version of Kylo Ren (complete with Darth Vader's melted helmet) for $34.99. Naturally, the higher prices on Black Series toys means a figure with a more detailed sculpt and more points of articulation. They look very nice – I have a Black Series Kylo Ren that stares at me while I work every day. But if you're reading an article about a Star Wars Black Series figure, you probably already know that.
Here's the official description of the Jyn Erso figure:
Bring the action of the highly anticipated Rogue One: A Star Wars Story film to life with THE BLACK SERIES Jyn Erso Pack! A highly skilled soldier in the Rebel Alliance, Jyn Erso is an impetuous, defiant warrior eager to bring the battle to the Empire. This impressive 6-inch scale figure features extensive articulation and realistic character design. Includes 1 figure, 2 blaster accessories, and an exclusive booklet containing 4 photo cards.
If you can't make it to Comic-Con, note that a limited number of these figures will be for sale at HasbroToyShop.com after the con ends, so keep your eyes open. A selection will also be on sale at Fan Expo Canada in September. In the meantime, fans who can't get one of these shouldn't despair too much. There's no way Lucasfilm will want to leave a single dime in your pockets, so expect variants and new editions (with different costumes) to hit shelves eventually.
You can take a closer look at the Jyn Erso figure (and its cool packaging) in the gallery below. If you manage to snag one, make sure you brag loudly on Twitter or something. The rest of us will sit around and wait for Rogue One to open on December 16, 2016.