Sequel Bits: 'Fast 8,' 'Star Trek Beyond,' 'Frozen 2,' 'Transformers: The Last Knight' 'Trainspotting 2,' 'The Expendabelles'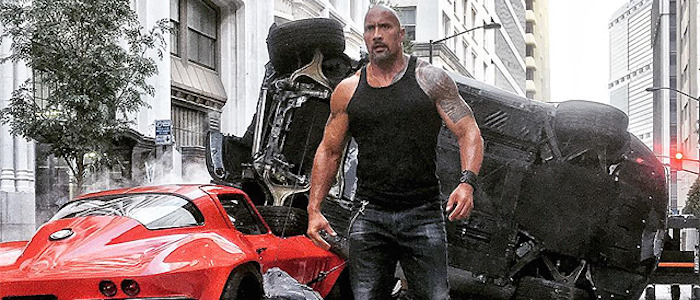 In this edition of Sequel Bits:
Dwayne Johnson promises an epic prison action scene in Fast 8.
Kristen Bell offers a quick update on Frozen 2.
A deluge of new Star Trek Beyond clips and featurettes.
Transformers: The Last Knight is filming a big highway action scene.
A certain billionaire CEO will show up in Star Trek Beyond.
Danny Boyle makes a fan's day on the set of Trainspotting 2.
No, Sylvester Stallone is not involved in that Expendables spin-off.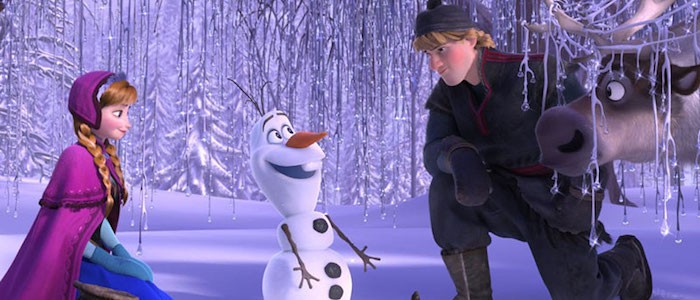 We may not know too much about the status of the Frozen sequel Disney is currently working on, but if it makes you feel better, neither does Kristen Bell, who voiced Princess Anna in the original film. When she was grilled about the film on Jimmy Kimmel Live, she couldn't say much...mainly because she hasn't seen a screenplay yet:
We haven't started recording. We're just waiting to get our hands on the script. They take a lot of time over there to just perfect it, and it has to go through a lot of development to make sure that's it's exactly the story that needs to be told. I mean, I hope we start recording soon.
So there's your news for the day: Frozen 2 – still being written.
Now, let's do a 180 and drive to the other end of the movie spectrum for a quick update on Transformers: The Last Knight. The production has shared a video on its Facebook page teasing the filming of a big action scene involving fireballs, flipping cars, an empty highway, and a helicopter. No matter how you feel about these movies, this kind of stuff is always fascinating. The science of making things go boom on the big screen is often more interesting than the actual finished action scene.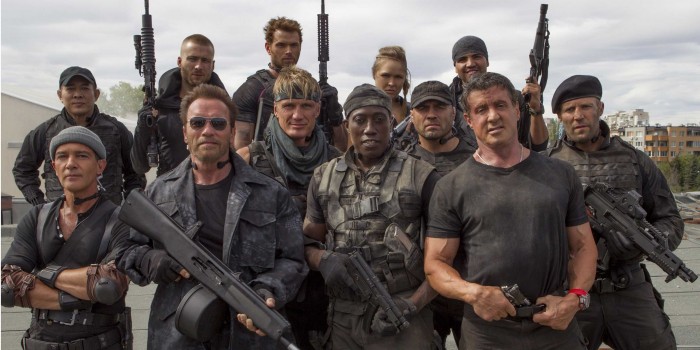 We've been hearing about an all-female spin-off of the Expendables franchise (possibly titled The Expendabelles) for a few years now, but it's never felt like anything that would actually happen. There's been no momentum, no buzz, and none of the major players from the original three movies seem to be attached. And now franchise creator and star Sylvester Stallone has made it very clear that he has nothing to do with the project. He has even reached out to Deadline to make it explicitly clear that he is not involved in any way. Noted, sir.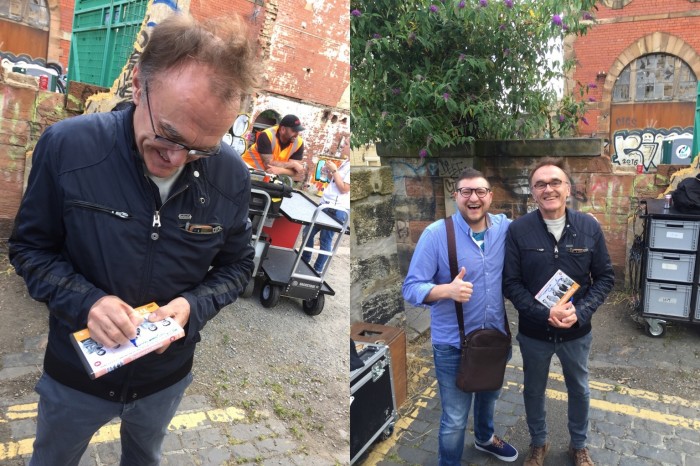 If you're up for some sweet and endearing non-news, Reddtor MScsquared noted that the Trainspotting sequel (which hopefully won't actually be called T2: Trainspotting 2) was filming by his home, grabbed his DVD copy of the original film, and managed to get director Danny Boyle to sign it before posing for an all-smiles photograph. Aww.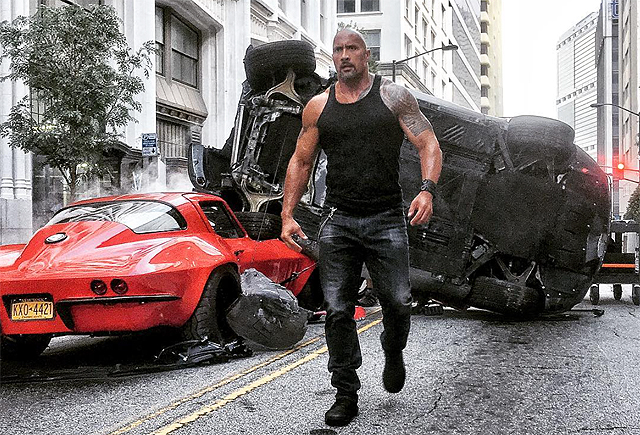 Fast 8 is currently deep into filming, dropping cars out of buildings and blowing up half of Iceland. You know, the usual. But today's news is all about Dwayne Johnson, who is once again reprising his role as Hobbs, the deadly government agent who frequently finds himself allied with Vin Diesel's gang of street racing superheroes. First of all, there's that new photo above, which features The Rock in his element: walking down a street in an outfit that showcases his bulging musculature while massive destruction lies in his wake. Even more interesting is the video below, where we once again see Johnson in an orange prison jumpsuit. Neither Johnson or director F. Gary Gray explain what Hobbs is doing in prison, but they do promise a prison action sequence of epic proportions. So there you go.
@therock is killing it in this action sequence today! What do you think he's doing in this action sequence? #f8 #fastandfuriousmovie #ineedtodosomepushupsstat
Justin Lin may have seemed like an odd fit for Star Trek Beyond when he was initially hired, but he's spent the past year-plus saying all of the right things and proving why he's a good man for the job. With the film finally hitting theaters this weekend, Paramount has released a new featurette taking a look at how Lin approached the movie and why J.J. Abrams (who remains a producer on Beyond) thought he was the right fit. With early reviews singing the film's praises, it looks like everyone made the right choice.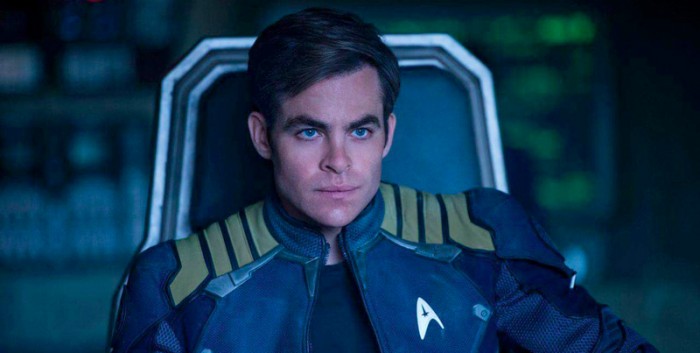 Star Trek has many fans in high places (including President Barack Obama), so it's only natural that at least one of them could squeeze themselves into Star Trek Beyond. A new article at The Hollywood Reporter confirms that Amazon CEO and dedicated Trek aficonado Jeff Bezos has a brief cameo in the film. Justin Lin confirmed the appearance:
He was awesome. It was like a president was visiting, you know? He had a big entourage! But it didn't matter because he was so into it. He had to wait around all day because it was one day we were shooting, like, three different scenes and, it was also credit to Jeff because ... he just nailed it every time.
So keep your eyes open! Somewhere in this utopian future where money no longer exists is a visiting billionaire.
And now, let's close this edition out with a few quick Star Trek Beyond clips before the film opens. First up, here's a scene where Dr. McCoy offers approximately zero comfort to a recently dumped Spock.
And then there's this slightly more action-packed scene where the Enterprise encounters a mysterious and unknown enemy while exploring orbiting an unknown planet.