'Narcos' Season 2 First Look: Pablo Escobar Is Running Out Of Time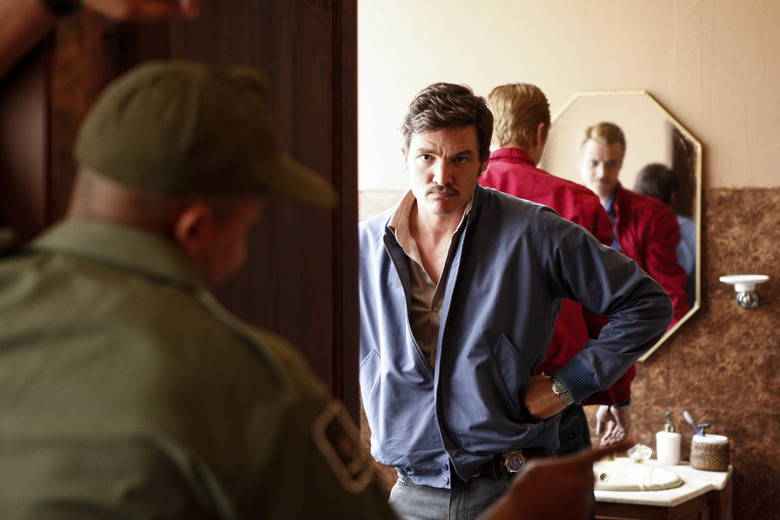 Since Netflix's Narcos is based on historical events, all it takes is one quick Wikipedia search to figure out where the show is headed next. But getting there is the fun part, of course, and it looks like we can look forward to plenty of drama and intrigue in the next run of episodes. The streaming service has just released a fresh batch of Narcos season 2 first look images, and you can check 'em out below.
Returning for the next season are Wagner Moura as drug kingpin Pablo Escobar, Boyd Holbrook as DEA agent Steve Murphy, and Pedro Pascal as DEA agent Javier Peña. 
Narcos is in an interesting position right now. The show covered a lot of ground in the first season and now finds itself quickly approaching the end of Escobar's real-life story — and the producers have already said they have no intention of extending it past its natural conclusion. "That story was always designed to have an ending," producer Eric Newman said earlier this year.
Which means the show will, at some point, have to come to a definite end — or, more likely, simply go on without Escobar, picking up another thread out of the long history of the war on drugs. "There are any number of things that can happen after. We have not committed to one or the other," teased Newman. "Obviously there are a lot of other stories in this world that continue on beyond him."
All 10 episodes of Narcos season 2 will premiere Friday, September 2 at 12:01 AM Pacific (that's 3:01 AM Eastern) on Netflix.
Narcos chronicles the gripping real-life stories of the infamous drug kingpins of the late 1980s and the corroborative efforts of law enforcement to meet them head on in brutal, bloody conflict. Its gritty storytelling details the many, often-conflicting forces – legal, political, police, military and civilian – that clash in the effort to control cocaine, one of the world's most valuable commodities.
The series stars Wagner Moura (Elite Squad, Elysium) as Pablo Escobar alongside Boyd Holbrook (Gone Girl) and Pedro Pascal (Game of Thrones) as real-life DEA agents Steve Murphy and Javier Peña.
José Padilha (Elite Squad, RoboCop) and Eric Newman (Children of Men) serve as executive producers of the series. Narcos is produced by Gaumont International Television for Netflix.