J.J. Abrams Would Like To See A Knights Of Ren 'Star Wars' Spin-Off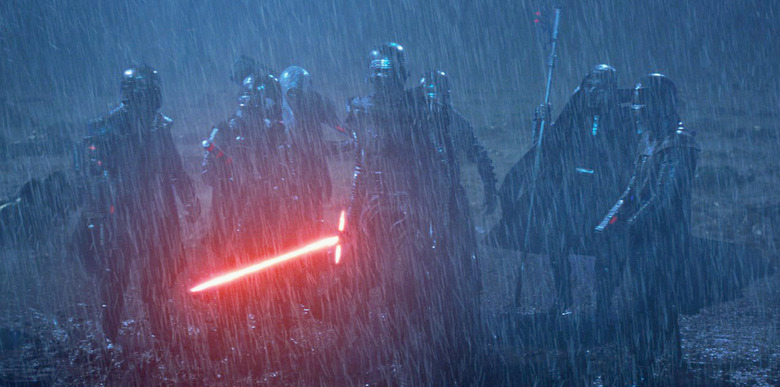 There's a whole slate of Star Wars films coming out over the next few years with every other one being A Star Wars Story, a spin-off adventure that takes place outside of the primary saga storyline. The first one will be Rogue One this December, followed by a Han Solo standalone movie a couple years later with Alden Ehrenreich inheriting the role from Harrison Ford. There's rumors of a Boba Fett spin-off to follow in years to come, but we've yet to get confirmation on that front.
But if J.J. Abrams had his way, there's one other spin-off movie he'd like to see involving some characters who were revealed in Star Wars: The Force Awakens who we don't know much about. Find out more below.
Speaking with Collider while on the publicity tour for Star Trek Beyond, the director of the first chapter of this new trilogy in the Star Wars saga was asked what he's like to see as a Star Wars spin-off. At first, he didn't have any thoughts outside of what Lucasfilm already has in store, but then he thought of one intriguing idea:
"I gotta say Kathy Kennedy, who's running it all, she seems to be pushing all the right buttons. There isn't something that I'd love to see—I guess the one thing I would say is there's a Knights of Ren story that I think would be pretty cool to tell."
Oh, really, Mr. Abrams? The Knights of Ren are a mysterious group of dark side warriors led by Kylo Ren, with guidance from Supreme Leader Snoke. The first and only time we've seen the Knights of Ren in the movies is during Rey's Force vision that gave us minimal clues about her past. In the vision, a group of warriors, along with Kylo Ren, are standing in the middle of a thunderstorm, having just killed one last man, with plenty of other dead bodies surrounding them
This sequence has been presumed to be when the Kylo Ren and the Knights of Ren killed those studying as Luke Skywalker's new generation of Jedi, further confirmed by the silhouette of what appears to be a Jedi Temple during a lightning flash in the storm. Could this be part of the story that Abrams would like to see told in a standalone movie?
It's far more likely that J.J. Abrams knows much more about the Knights of Ren than any of us, so perhaps there's something else about their past that he thinks would make a great movie. Does that mean we won't learn much about them in Star Wars: Episode VIII? Or maybe that was Abrams' way of teasing that Episode VIII will be the movie with a cool Knights of Ren story that we'll get to see unfold.
Either way, even if there is never a Knights of Ren movie, there will be no shortage of Star Wars movies on the horizon, and I'm betting that at some point we'll get to learn much more about the mysterious warriors.