'The Age Of Shadows' Trailer: The Latest From The Great Kim Jee-Woon Looks Like A Return To Form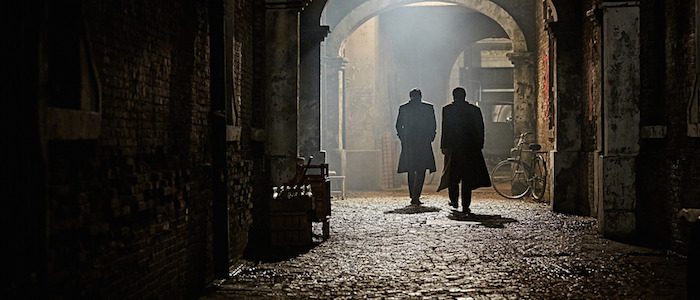 A few years ago, South Korean filmmaker Kim Jee-woon's sojourn in Hollywood came to an abrupt end when The Last Stand was a box office bomb. And while I have a soft spot for that goofy, endearingly odd movie, a late-period Arnold Schwarzenegger shoot 'em up was probably not the best use of the man who directed A Tale of Two Sisters, A Bittersweet Life, I Saw the Devil, and The Good, The Bad, The Weird. Here's a filmmaker who has always been at his best when he's allowed to go totally for broke. He wasn't made to juggle aging action stars and studio notes.
Now, Kim has returned to his homeland and has a new movie arriving this year. And I'm a little biased because I have loved almost all of his work so far, but The Age of Shadows looks like one of 2016's more exciting movies, an espionage story that looks genuinely fresh and tense.
The Age of Shadows is a historical thriller set during the Japanese occupation of Korea in the 1920s and follows Korean resistance fighters as they battle occupying forces through assassination and subterfuge. But audiences who aren't familiar with the history of the region may need a little helping hand. The official synopsis helps set the stage fairly well and should probably be read before you watch the trailer:
Set in the late 1920s, The Age of Shadows follows the cat-and-mouse game that unfolds between a group of resistance fighters led by Gong's character, trying to bring in explosives from Shanghai to destroy key Japanese facilities in Seoul, and Japanese agents trying to stop them. Song plays a talented Korean-born Japanese police officer who was previously in the independence movement himself and is thrown into a dilemma between the demands of his reality and the instinct to support a greater cause.
And now, you have two options for The Age of Shadows trailer. First up is this higher quality version, which does not feature any English subtitles but shows off the film's visuals quite well:
The other option isn't as nice to look at (and it features an irritating introduction), but it includes English language subtitles.
Whats most striking about this trailer is how different it looks from Kim's past work. Then again, we are talking about a filmmaker who has made ghost stories, gruesome revenge tales, crime movies, and bombastic western action adventures. You never know what you're going to get with one of his movies, but you're certainly guaranteed something intense and visually arresting.
The Age of Shadows already has a South Korean release date this September, but it's still waiting on distribution in the United States and other territories. Thanks to The Film Stage for bringing this trailer to our attention.