'Suicide Squad' Extended Promo: Don't Threaten Deadshot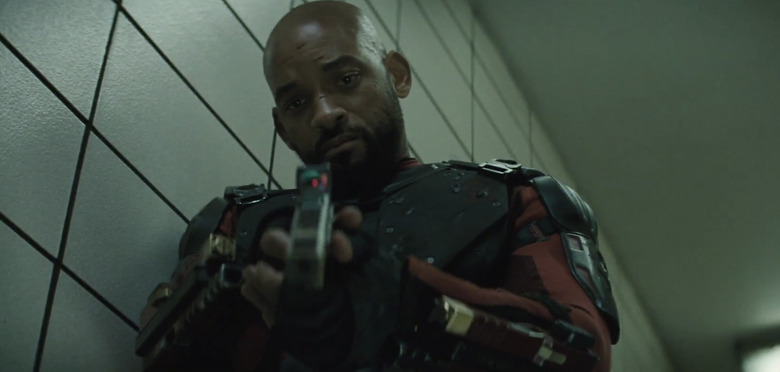 Yesterday, Warner Bros. released an extended promo introducing audiences to Amanda Waller (Viola Davis), "one of the scariest characters in the movie" and the mastermind who puts the Suicide Squad together. One of the leaders of that squad is Deadshot (Will Smith). Smith, who's probably most famous for playing heroes, stars in David Ayer's film as the assassin/supervillain. The newest promo tells you all you need to about the character, including the fact only his friends call him by his real name Floyd.
Below, watch the Suicide Squad extended promo.
Suicide Squad stars Smith, Margot Robbie, Viola Davis, Jai Courtney, Joel Kinnaman, Jared Leto, Adewale Akinnuoye-Agbaje, Karen Fukuhara, Jay Hernandez, Cara Delevingne, Adam Beach, David Harbour, and Ben Affleck makes an appearance as Batman. The newest footage highlights Smith's role in the film. He still seems to have his signature, wisecracking charm; it's just servicing a different kind of role and film this time around.
Here's the Suicide Squad extended promo:
The commercial is only a minute long, but it is surprising we don't see Deadshot and Harley Quinn interacting at all. Smith and Robbie are reuniting after sharing plenty of chemistry in Focus, and Ayer has said the two will have a significant amount of screentime together in Suicide Squad.
Based on the above promo and the trailers we've seen so far, it's obvious there will also be plenty of banter and tension between Deadshot and Rick Flagg (Joel Kinnaman). Ayer stated on the set that both characters are "herding cats," and that "they don't care" who looks like the squad's leader. They're less concerned with their status, more concerned about saving the world.
Ayer and the rest of his squad are making the trip down to San Diego Comic-Con this week. On Saturday, Warner Bros. will show a few clips from the film and Patty Jenkins' Wonder Woman. Since Ayer's film was finished a couple of weeks ago, fans should see some new, completed footage from Suicide Squad.
Here's the official synopsis:
It feels good to be bad... Assemble a team of the world's most dangerous, incarcerated Super-Villains, provide them with the most powerful arsenal at the government's disposal, and send them off on a mission to defeat an enigmatic, insuperable entity. U.S. intelligence officer Amanda Waller has determined only a secretly convened group of disparate, despicable individuals with next to nothing to lose will do. However, once they realize they weren't picked to succeed but chosen for their patent culpability when they inevitably fail, will the Suicide Squad resolve to die trying, or decide it's every man for himself?
Suicide Squad opens in theaters August 5th.