'In A Valley Of Violence' Trailer: Ti West Wants To Show You A Good Fight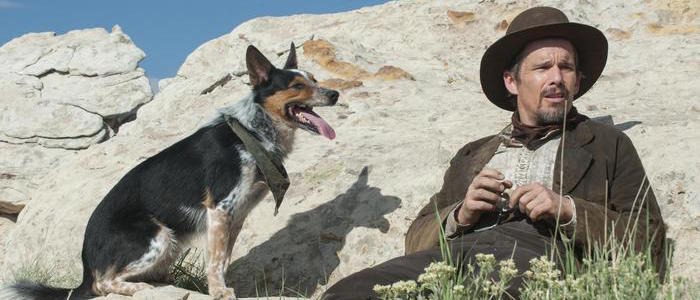 Ti West is changing things up with In a Valley of Violence. The writer/director behind The House of the Devil and The Innkeepers has made a western. The film, which we first heard about over two years ago, doesn't blend horror and western tropes together; it's just a pure, revenge-driven western. The film stars Ethan Hawke, James Ransone, Taissa Farmiga, John Travolta, and Karen Gillan.
Below, watch the In a Valley of Violence trailer.
"The first thing you notice about In a Valley of Violence is that it doesn't feel like a typical Ti West film," our own Jacob Hall wrote in his review of the film. "His trademark slow-burn menace is nowhere to be found and his low-key comedy, which he used to punctuate tension in films like The House of the Devil and The Innkeepers, has undergone a transformation." Jacob is more mixed on that transformation than most critics are, claiming "it's too weird to ignore, but also too unfocused to adore."
Here's the In a Valley of Violence trailer (Source: EW):
Jacob did, however, sing the praises of Jumpy the dog, who looks delightful in the trailer, and the same goes for Travolta. The actor often shines in these sort of colorful supporting roles. His performance in this year's The People v. O.J. Simpson: American Crime Story is a reminder that he's sometimes at his best when playing slightly eccentric characters. 
As for Hawke, he stars in another upcoming western, The Magnificent Seven remake (which we saw a new trailer for yesterday). He looks in fine form in West's film. His intensity paired with Jeff Grace's propulsive piece of music makes for an attention-grabbing trailer.
Here's the official synopsis:
A mysterious drifter named Paul (Ethan Hawke) and his dog Abbie (Jumpy) make their way towards Mexico through the barren desert of the old west. In an attempt to shorten their journey they cut through the center of a large valley – landing themselves in the forgotten town of Denton – a place now dubbed by locals as a "valley of violence." The once popular mining town is nearly abandoned, and controlled by a brash group of misfits and nitwits – chief among them, the seemingly untouchable, Gilly (James Ransone) who is the troublemaking son of the town's unforgiving Marshal (John Travolta).
As tensions rise between Paul and Gilly, Denton's remaining residents bear witness to an inevitable act of violence that starts a disastrous chain reaction, infecting the petty lives of all involved and quickly drags the whole town into the bloody crosshairs of revenge. Mary-Anne (Taissa Farmiga) and Ellen (Karen Gillan), two bickering sisters who run the town's only hotel, try to find the good in both men, while desperately searching for their own salvation. Only the world-weary Marshal struggles to stop the violent hysteria, but after a gruesome discovery about Paul's past...there is no stopping the escalation.
In a Valley of Violence opens in limited release on October 21st.