'Skiptrace' Trailer: Jackie Chan & Johnny Knoxville In A Movie That Feels Like It's From 2001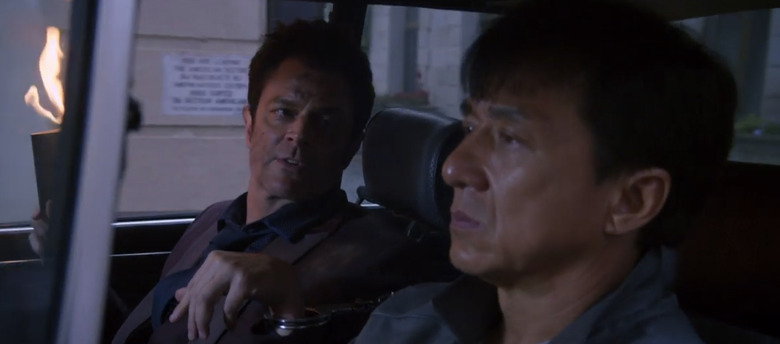 Back in the late 1990s and early 2000s, Hong Kong action star Jackie Chan became a huge star in the United States. His incredible stunt work caught the attention of Hollywood and action fans alike, and a handful of his movies received a domestic release in theaters, albeit with dubbed dialogue. Shortly thereafter, Chan was starring in Hollywood films like Rush Hour with Chris Tucker, Shanghai Noon with Owen Wilson and even his own starring vehicle, The Tuxedo. Now he's back in a movie that feels like it got lost in a couch cushion back in 2001.
Skiptrace is a new action comedy from Die Hard 2 and Cliffhanger director Renny Harlin, and it puts Jackie Chan into the lead role alongside an American actor for comedic relief. This time it's Jackass star Johnny Knoxville starring alongside Jackie Chan, and as you'll see in the trailer that just debuted, the two couldn't be a more mismatched pair. Watch the Skiptrace trailer after the jump.
It's mind-boggling to me that this film exists. The tone of the trailer, the style of comedy, and the presence of both Jackie Chan and Johnny Knoxville make this feel so dated. But this is a movie that was made in 2014, and is coming to theaters this year. It's almost endearing how this movie feels like a throwback to the kind of action comedies audiences were seeing 15 years ago, but the movie doesn't seem self-aware enough to take advantage of that aspect.
However, at one point, it was American Pie franchise star Seann William Scott who was slated to star alongside Jackie Chan, which would have made the movie feel exactly the same way it does now. So maybe director Renny Harlin really is actively trying to throw back to a genre of movie that isn't really made this way anymore. But if that's the case, I'm not sure audiences will be in on the joke. From the sound of the trailer, it seems like the studio couldn't even get the rights to use Adele's song "Rolling in the Deep," so that's not a good sign.
Hong Kong detective Bennie Black (Jackie Chan) has been tracking notorious crime boss Victor Wong for over a decade. When Bennie's young niece Samantha (Fan Bingbing) gets into trouble with Wong's crime syndicate, Bennie must track down the only man who can help him: fast-talking American gambler Connor Watts (Johnny Knoxville). Bennie races against the clock to bring Connor back to Hong Kong and the unlikely pair embark on an entertaining and perilous adventure from the snowy mountains of Mongolia to the windswept dunes of the Gobi desert.
Skiptrace arrives in theaters on September 2.