'Luke Cage' Reveals An Exclusive Comic-Con Poster That Is Black And Yellow And Muscled All Over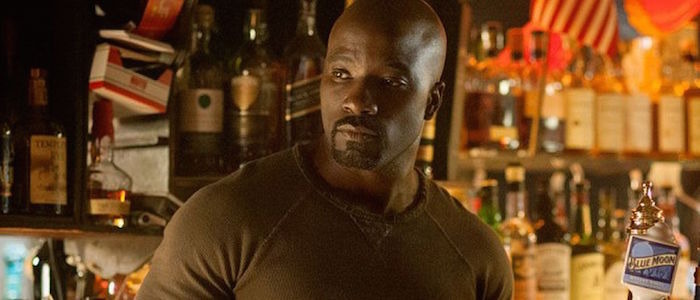 There was a lot to love in the first season of Marvel's Jessica Jones series, but one of things I loved most was Mike Colter's Luke Cage. We knew from the start that this soulful, sensitive, and dashing bartender (who also, you know, just so happens to have unbreakable skin) was going to be the star of his own series and would eventually unite with the rest of the Marvel Netflix stable of characters for a Defenders series, but Colter made a solo series for Luke feel like a priority in the midst of another character's show. That's something special.
With San Diego Comic-Con right around the corner, all things superhero are about to invade headlines with the force of a well-timed punch from Mr. Cage himself. So why don't we kick off this week with a new Luke Cage poster that will be available to Comic-Con attendees later this week?
Designed by Marvel chief creative officer and comic book artist Joe Quesada, the poster is less about Colter's depiction of Luke Cage and more about the character as an iconic whole. The pose is classic Cage and the splashes of yellow that form his muscular frame are a definite reference to his trademark yellow outfit...which has always been a yellow shirt of some kind (fashion trends dictate exactly what that shirt looks like). Here's how Quesada himself described the process of creating this image:
You've got one shot to encapsulate a character with a pose that's provocative and that you hope will someday be iconic.
This poster follows in the footsteps of both Daredevil and Jessica Jones, which revealed teaser posters at Comic-Con that leaned heavily on the characters' comic book origins. If you'd like to pick up one of these and happen to be in San Diego later this week, you'll need to swing by Marvel's booth.
And if you want more Luke Cage before his television series arrives, I highly recommend picking up writer David Walker and artist Sanford Greene's Power Man and Iron Fist series that debuted earlier this year. The series is a wonderful combination of traditional super heroics and comedy, following Luke Cage and Danny Rand as they re-form their old "Heroes For Hire" company despite having grown into very different people since their early days as young vigilantes. It's delightful! And it'll help get you excited for the Iron Fist series that's filming right now.
The first season of Luke Cage hits Netflix on September 30, 2016. Check out the poster for yourself below.