'Star Wars Episode 8': Did Carrie Fisher Just Reveal A Key Scene?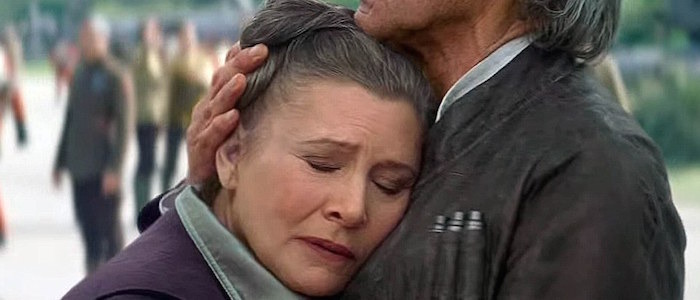 Lucasfilm was reluctant to reveal too much about the plot of Star Wars Episode VIII at Star Wars Celebration Europe, aside from the juicy tidbit that it'll pick up right where The Force Awakens left off. But star Carrie Fisher may have let one other major detail slip about a certain key scene in the movie. Be warned potential spoilers for Episode VIII are ahead — nothing too terribly major, but if you'd rather go into the film knowing as little as possible you may want to err on the side of caution. 
During a panel at Star Wars Celebration Europe this past weekend, moderator (and Star Wars actor) Warwick Davis asked Fisher what happened to Leia between Return of the Jedi and The Force Awakens. Apparently misunderstanding the question, Fisher responded, "Han's funeral."
It's a little unclear whether Fisher means Han's funeral takes place between The Force Awakens and Episode VIII, or whether she's confirming we'll see it in Episode VIII. We know the next Saga film picks up just moments after The Force Awakens in terms of Rey and Luke's meeting, so presumably not much time has passed for the other characters either. A funeral could be a nice touch. Not only would it give us a bit of closure for our favorite scruffy-looking nerf herder, it'd be a nice way of reminding us that his death hangs over the events of Episode VIII.
In any case, Fisher quickly corrected herself and began talking about the characters' relationship in more general terms. "We had a very volatile relationship, which leads to space divorce as you know," she said. "Or space estrangement, at least. We had a child who turned out to be Hitler, and you'd feel bad too if your son had done all that."
Fisher and Harrison Ford may not have the star-crossed relationship that their characters had, but it sounds like Fisher will miss his presence on set all the same. "It was fun to go back to the old days when I treated him badly," she said of shooting The Force Awakens. "My favorite part of Star Wars has always been treating Harrison badly." And she did manage to get a tiny measure of revenge on Kylo Ren via Adam Driver, who plays him in the movie. "I did spank Adam when I first met him so that felt good," she said. "He's very tall so I don't think he was scared."
Star Wars Episode VIII opens December 15, 2017.