Han Solo Spinoff: Everything We Learned From The Star Wars Celebration Panel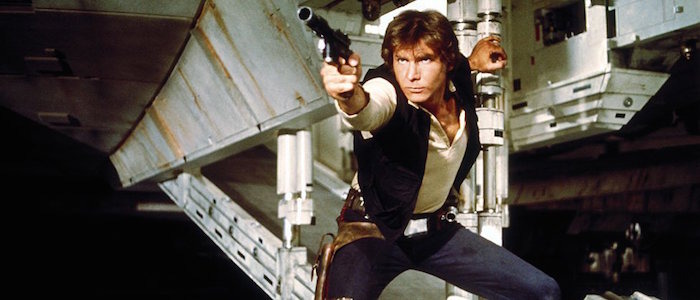 Two months ago, Alden Ehrenreich was cast as the young Han Solo. The actor will star in Phil Lord & Chris Miller's Star Wars spinoff, which Lawrence Kasdan and Jon Kasdan co-wrote. Little is known about the story, and unfortunately, no new major details were shared during the Future Filmmaker panel at Star Wars Celebration (which Peter has been covering in London).
Lord and Miller did, however, discuss the process of finding the right actor to play Han Solo, what appeals to them about the character, their canceled cameos in Rogue One: A Star Wars Story, and more. Below, learn a few Han Solo spinoff facts.
Lord and Miller are the most excited by Han Solo's dichotomy, which was a part of the reason why they wanted to make the movie. The filmmakers aptly described the character as "sarcastic and optimistic," a character that "doesn't want to do anything he's told." Clearly, the directors understand the character's charm.
"He's a maverick, he's a scoundrel, he's clever but not smart," they added. We have known Ehrenreich is playing this maverick and scoundrel for over two months now, but his appearance at today's Star Wars Celebration was the official announcement.
Here are a few other facts, quotes, and tidbits from the panel:
Around 3,000 people auditioned for the role. They searched acting schools all throughout America and the UK. They looked everywhere for the right Han Solo, including "cowboy bars," the filmmakers joked.
Alden Ehrenreich was the first to audition. Lord and Miller jokingly apologized to [Lucasfilm President] Kathleen Kennedy for spending all the money they had on the search. The duo called the actor "the best kept secret in Hollywood."
Dressed as Han Solo and with a blaster at his side, Ehrenreich screen tested with Chewbacca inside the Millenium Falcon. The audition process lasted six months.
Lord and Miller joked that the first 20 minutes of every screen test involved an actor drooling over being inside the Millennium Falcon.
When Ehrenreich landed the role, his mom sent him a photo of his original Han Solo action figure.
John Boyega made an appearance during the panel. He said to Ehrenreich: "Man, you're playing Han Solo." A smile spread across Ehrenreich's face, and Boyega added: "He's smiling just like Han!"
Lord and Miller, like Rian Johnson, will be shooting at Pinewood Studios in the UK. Principal photography will begin in late January or early February. A lot of the same crew members from Rogue One: A Star War Story and Star Wars: Episode VIII will work on the film.
Lord and Miller almost had cameos in Rogue One: A Star Wars Story. They appeared on set, got dressed, and waited for their big moment. Because Chris had to run to a school interview for his son, their cameos were not shot. Here they are in costume: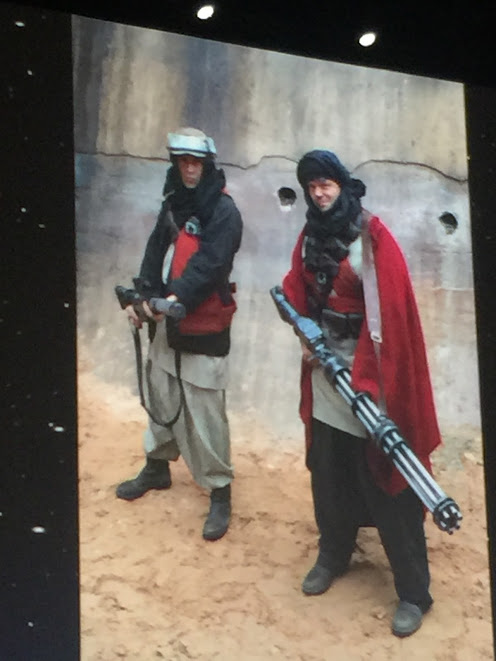 On the bright side, Miller did get to play a storm trooper in The Empire Strikes Back special edition release. Around 20 years ago, the director interned at ILM, and even though he wasn't supposed to, he had a few photos taken of himself in costume:
.@chrizmillr was a trooper in ESB special edition pic.twitter.com/6CJAPRlQqE

— Jason Gorber (@filmfest_ca) July 17, 2016
The Han Solo film opens in theaters May 25th, 2018.