'Blade Runner 2' Concept Art Presents A Toxic Los Angeles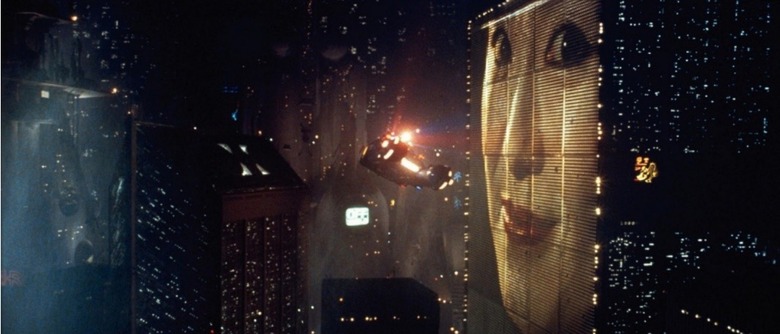 Director Denis Villeneuve (Sicario) begins principal photography on Blade Runner 2 this month. The sequel takes place decades after Sir Ridley Scott's 1982 film (around 2047 or 2050, says Scott), but we know little about the plot or even whom the project's star, Ryan Gosling, is playing. Villeneuve hasn't spilled any significant new details lately, but he has shared some artwork. Below, check out the Blade Runner 2 concept art.
Besides Gosling and Harrison Ford, Blade Runner 2 is set to star Robin Wright, Mackenzie Davis, Barkhad Abdi, Dave Bautista, Ana de Armas, Sylvia Hoeks, and Carla Juri. When each actor was cast, no details were shared about their roles. As for the story, unless it has undergone some serious changes since Scott discussed the plot two years ago, one thing we do know is the sequel involves "finding Deckard."
When Villeneuve first heard about Blade Runner 2, he thought "it's a fantastic idea, but it may be a very bad idea." He knows the project is a massive undertaking, but when speaking with EW, he said Harrison Ford helped remove some of the pressure:
He told me that Blade Runner was a dream. We just have to dream again and not worry too much about logic. That removed so much pressure and gave me the key to move forward.
The director has called Scott's film one of his "favorite movies of all time," saying it's "linked with my love and passion for cinema." He continued to share his passion for the original to EW:
I remember the opening sequence perfectly. That note of music; seeing Los Angeles in 2019; that smog; that darkness. It's really the movie that gave birth to my desire to become a director.
That smog might get a little thicker in Blade Runner 2 because this world has only worsened since 2017. "The climate has gone berserk," Villeneuve said. From the rain to the snow, it's all toxic. The first piece of concept art below highlights a futuristic snow blower that destroys the snow as it hovers over the streets of Los Angeles. These environments will come to life with the help of cinematographer Roger Deakins, who shot Villeneuve's two previous features. The second image gives us another look at Blade Runner 2's unpleasant future:
Well aware of fans' high expectations, Villeneuve concluded the interview with "failure is not an option."
Blade Runner 2 opens in theaters October 5th, 2017.