'Suicide Squad' May Be On Track For The Biggest August Opening Weekend Of All Time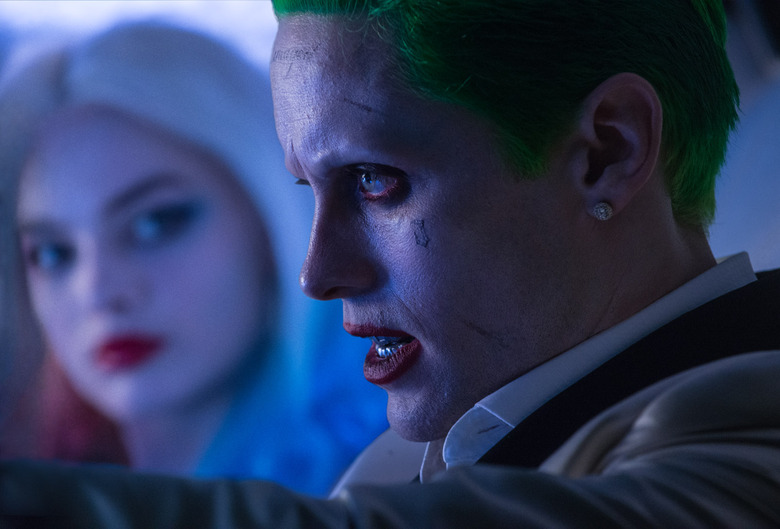 For most films, a $872 million global gross would be cause for wild celebration. For Batman v Superman: Dawn of Justice, though, it was considered a slight disappointment. Yes, it's a lot of money — but Warner Bros. had been counting on this one to do even better, considering it starred all three of DC's most iconic heroes, cost at least $250 million to make, and many, many millions more to market. The fact that it didn't even come close to $1 billion was cause for concern.
Fortunately for Warner Bros., though, there may be a bright spot right around the corner. The studio's other big DC movie of 2016, Suicide Squad, is reportedly tracking for an opening domestic weekend upwards of $100 million. Should it hit that mark, it'll be comfortably ahead of the previous August record-setter, Marvel's Guardians of the Galaxy. 
According to The Hollywood Reporter, Suicide Squad is currently tracking for a $125-135 million opening — or possibly even higher, though analysts caution it's still early. Guardians of the Galaxy set the previous August record, opening to $94.3 million domestically in 2014. Suicide Squad still has three weeks to go and reviews, word of mouth, and Warner Bros.' last big marketing push will all factor into its ultimate box office results. It's also worth pointing out that these numbers only reflect the U.S. box office, at a time when blockbusters are increasingly making much of their money overseas.
If predictions are right, Suicide Squad will be neck-in-neck with 2016's other surprise superhero success story — the R-rated Deadpool, which opened to $132 million in the U.S. back in February. For comparison, Batman v Superman took in $166 million at home in its first weekend, and X-Men: Apocalypse a relatively paltry $65 million. None of these movies have come close to touching Captain America: Civil War, which opened to $179 million. Civil War is still the biggest U.S. opening of the year so far, although Finding Dory has eclipsed its total domestic gross at this point.
Warner Bros. could definitely use the win. Batman v Superman's performance was worrying because the film was supposed to get audiences hooked on the larger DC universe, so they'd return for Justice League, Wonder Woman, Aquaman, The Flash, and so on. My feeling is that Suicide Squad benefits in some ways from looking like an entirely separate entity — it looks like something a moviegoer could enjoy without having bothered with Man of Steel or Batman v Superman. At the same time, though, it's definitely got some ties to the DC universe so perhaps it'll change the minds of some fans who were put off by the darkness and grittiness of Batman v Superman.
Anecdotally, I've noticed some of my friends who have zero interest in more serious-minded superhero movies like Batman v Superman or Captain America have been intrigued by the irreverent humor of Guardians of the Galaxy, Deadpool, and, yes, Suicide Squad. Superhero films may not necessarily be "over," as some have predicted, but as the genre gets more and more crowded, studios and filmmakers will need to think long and hard about how to make their own comic book movies stand out from the crowd.
Directed by David Ayer, Suicide Squad opens August 5.