First 'Star Wars Rebels' Season 3 Clip: Ezra Got A Haircut And Some New Weapons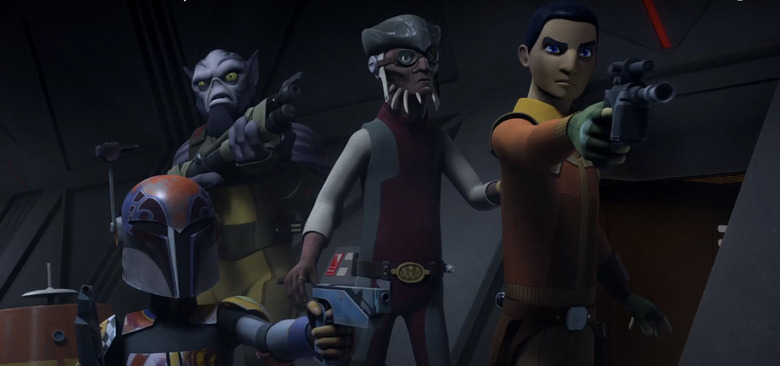 Star Wars Celebration will be in full swing tomorrow, and we'll have coverage straight from the convention in London with all the latest updates on the future of the Star Wars franchise (hopefully some of our predictions come true). But before the news starts rolling in, there's a little treat for fans who are curious about what the future of Star Wars Rebels has to offer.
On the latest installment of The Star Wars Show, the first Star Wars Rebels season 3 clip debuted, and with it comes the reveal of a whole new look for the Jedi apprentice Ezra Bridger, as well as some new weapons too. Watch the clip after the jump.
The Star Wars Rebels segment begins at 2:30 while the actual clip starts at 3:40:
Not only is Ezra sporting a new short haircut, but he's clearly grown up a bit too. It's not quite as extreme as the growth of Anakin Skywalker between The Phantom Menace and Attack of the Clones, but it's clear that he's a bit more mature this season. As you can see in the clip, this doesn't go unnoticed by Hondo when he and the rest of the Ghost crew encounter some Imperial entanglement.
Speaking of which, since Ezra's hybrid blaster and lightsaber was destroyed at the end of the second season of Star Wars Rebels, it only makes sense that he get some new weapons. However, it appears Ezra's training has progressed enough that he no longer needs to have his blaster and lightsaber as one weapon. Now he has a separate blaster that doesn't look much different than Han Solo's trademark gun, and a green lightsaber at his disposal as well.
With executive producer and supervising director Dave Filoni at Star Wars Celebration this coming weekend with some special guests, we're bound to learn more about the upcoming third season. After all, the first two episodes of the new season will be screened for fans at Star Wars Celebration, so plenty of details should be known after that.
The end of the second season was quite an epic finale, and seeing how the story of these Rebels progresses as we inch closer to the timeline of the original Star Wars trilogy will be rather interesting. Star Wars Rebels has been much more engaging than I thought it would be, and with recent hints that we might see some characters from the show make it to the big screen in live-action form, it could also be very important to future movies.