Watch The First Eight Minutes Of Netflix's 'Stranger Things'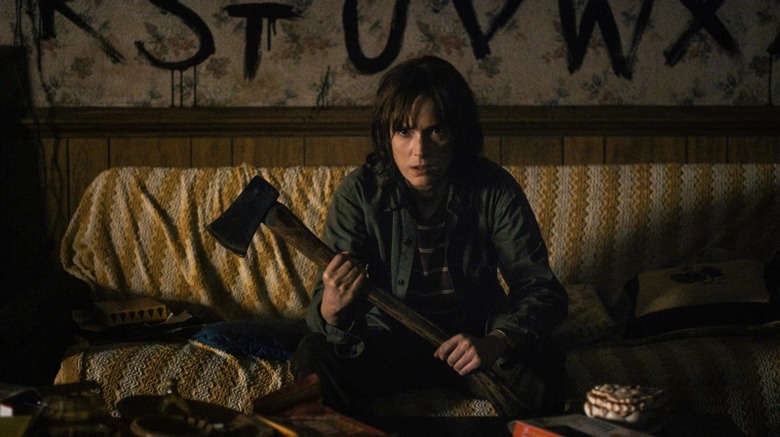 Starting tomorrow, you can binge watch season one of Netflix's Stranger Things. According to some of the early reviews and reactions, that's how this sci-fi mystery is most likely going to be consumed by audiences. Before you watch close to eight hours of The Duffer Brothers' show, you can watch the first eight minutes from Stranger Things.
Below, check out the Stranger Things opening and the early buzz.
The Duffer Brothers wrote Stranger Things, and except for two episodes directed by executive producer Shawn Levy (Real Steel), they directed most of it. The series takes place in Hawkins, Indiana, where Joyce's (Winona Ryder) son, Will Byers (Noah Schnapp), has gone missing. When the boy's closest friends go looking for him, they stumble upon Eleven (Millie Bobby Brown), a young girl that might know where their friend is and what's happening to their small, once peaceful town.
Here are the first eight minutes of Stranger Things, not including the opening credits with a piece of music from Kyle Dixon and Michael Stein (The Guest) that sets the tone just right for this show:
So far, the reviews have been enthusiastic, with most critics suggesting the show is more than a trip down nostalgia lane. Here are a few excerpts from the early reviews of Stranger Things:
Barely a scene goes by without some kind of echo of E.T. or Jaws or The Body (the King story that became Stand By Me), to name just three, and at times the characters just come right out and cop to the story's inspirations: in trying to explain one bit of supernatural information to a pair of skeptics, a woman asks them, "You read any Stephen King?" But the series, created and primarily directed by filmmaking brothers Matt and Ross Duffer (Wayward Pines) doesn't feel like a hollow nostalgia exercise. It's not Super 16. Over the course of the eight hours, the story and characters take on enough life of their own so that the references don't feel self-indulgent, and so that the series can be appreciated even if you don't know the plot of E.T. or the title font of Stephen King's early novels (a huge influence on the show's own opening credits) by heart.
The adult critic in me could pick apart a few of the beats of Netflix's "Stranger Things," premiering in its entirety tomorrow, July 15th, but the teenager in me—the kid who adored the work of Steven Spielberg and read every book by Stephen King—just wants to tell you that it's awesome. It starts a little slow, but builds speed and tension at a remarkable, consistent pace—every episode is more entertaining than the one before. The rising action of this clever tale is structured in such a way that I expect most Netflix users even remotely interested to be done by the end of the weekend. Heck, you might be up all Friday night. Trust me. It's worth it.
Even as '80s pastiche, there's little unique about Stranger Things—the plot and novelty are stretched thin at eight hours. But it gathers momentum in episode 4 and generates pleasure in the convergence of various story lines. The themes of friendship, mortality, and ­collective responsibility are stirring if superficial. What moved me most was Eleven's poignant heroism and metaphor for degrading exploitation and wish-fulfillment fantasy. There's a beat that evoked, for me, Twin Peaks, that strange thing of the '90s. Stranger Things has promise as a peculiar and critical historical survey of geek culture. For now, it seems content to just geek out on it.
In fact, Stranger Things is stylish, beguiling, and eminently bingeable, but it isn't skeptic-proof. The Duffer brothers, who previously worked on Fox's surprisingly compelling Wayward Pines, should know by now that open-ended supernatural mysteries are going to dissuade some viewers, particularly those who have felt duped by such stories in the recent past. But anyone willing to push through their resistance will find a borderline hypnotic show that could be to this summer what USA's Mr. Robot was to last summer: a hyper-stylized niche series that feels essential even at its wobbliest.
Friday, Netflix debuts Stranger Things (** 1/2 out of four), a multi-sourced, 1980s-set horror homage to Steven Spielberg films such as E.T., The Goonies and Poltergeist that — at about eight hours — exceeds the length of all three films combined. If you want to emulate Spielberg, don't mimic his themes; study his skill at propelling a story forward and tailoring it for its audience.
It took me about a week to watch all eight episodes of the first season of Stranger Things, Netflix's terrific new monster mystery show premiering on July 15. During that time, I had to explain the series to friends who asked what I was currently watching at work. The best, quickest summary I came up with was that Stranger Things is a "kids on bicycles" kind of a thing. You know: kids tooling around on Huffys, going on some grand, small-town adventure. Something in the spirit of E.T., but definitely darker. Stranger Things is more than that, though, so this quick explanation never really felt like it sufficed. There are kids and there are bikes, but there's also much more: a deep, grown-up ache at the center of the series that makes for a show that's as curiously moving as it is scary.
I'm about halfway through Stranger Things, so I can't write too much about the quality of the series. With that said, a lot of these reviews seem to be on the money, especially regarding the younger cast's charm and an appealing tone that evokes the laughs, sadness, and danger of classic kid-led adventure movies we rarely see anymore. The show's influences are unmistakable, but so far, Stranger Things is standing on its own, despite its familiarity. It'd be surprising if a lot of people don't find themselves devouring the series in one sitting this weekend.