The Toy Box: Adventure Time, Nintendo, Frozen, Ghostbusters, Nickelodeon, Star Wars & More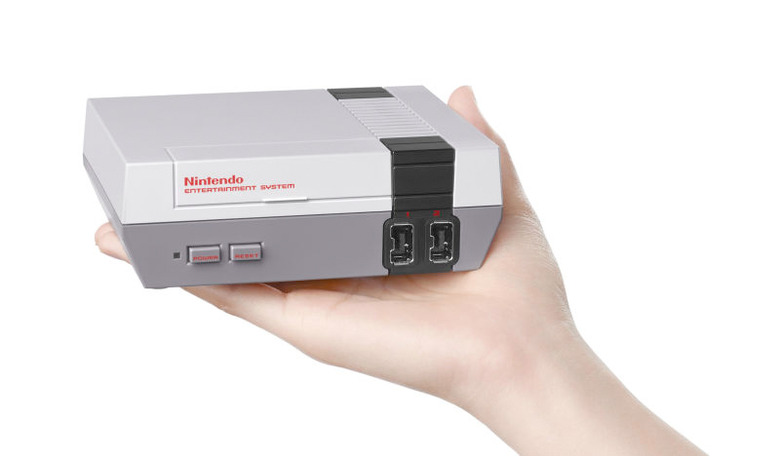 The Toy Box is a weekly feature at /Film that will round up some of the newest and coolest collectibles, decorations, gadgets and other memorabilia that you nerds might want for your shelves.
Disney has a new batch of Sketchbook Ornaments for movies like The Lion King and Alice in Wonderland while LEGO has unveiled their official Adventure Time set. Nintendo has a new mini classic edition of their original system coming with 30 games pre-loaded on it and Nickelodeon has a new subscription box that will be debuting at Comic-Con. There are also new figures for Predator, Frozen, Star Wars Rebels and much more.
See everything in this edition of The Toy Box after the jump.
Star Wars: Battlefront - Hot Toys Jumptrooper 1/6 Scale Figure
If you've been playing the Electronic Arts video game Star Wars: Battlefront, then you're very familiar with the Jumptrooper. Now the soldier from the Galactic Empire is getting its own sixth scale figure from Hot Toys that is one of their Toy Fair exclusives.
The Jumptrooper has weathered armor, a magnetically attached jetpack with thruster fire accessories, blasters, interchangeable hands, and a figure stand that allows for dynamic aerial poses. You can see all the accessories in display in the photo above. No price is available yet, but the figure is expected to arrive sometime later this year.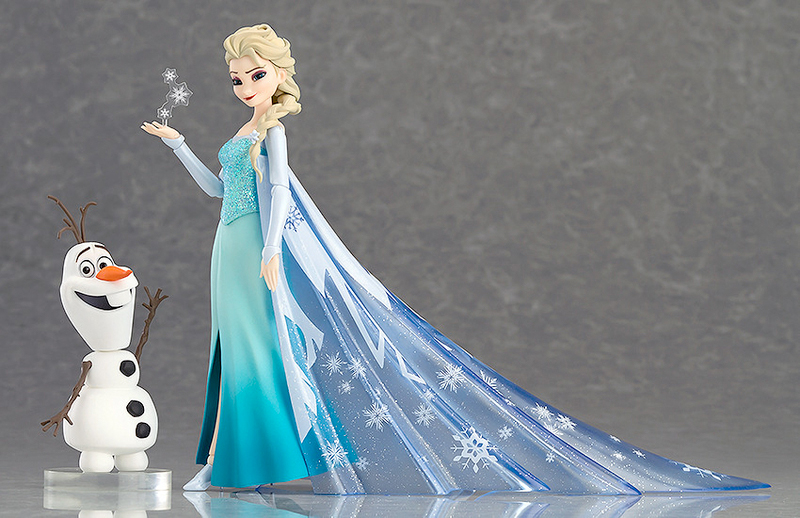 Frozen - Figma's Elsa, The Snow Queen Figure
Figma has added Disney's most recently popular princess to their figure line-up. Elsa, the Snow Queen from Frozen, is getting her own detailed toy with some awesome accessories.
In addition to being fully poseable, Elsa also comes with three face plates: a sidelong glance, a smiling expression, and a singing face for when your kids want to play "Let It Go" over and over again. As you can see, there are also snow effect parts to attach to her hands, and her snowman buddy Olaf as well. Each of the figures have movable eyeballs to make their poses that much better looking.
The figure is expected to be available in December this year, and will run you $99 at Big Bad Toy Store.
Predator - NECA's Stalker Predator and Accessory Pack
Star Wars: DKE Toys "Wars Not Make One Great" Yoda from Free Humanity
This is certainly one of the more unique Star Wars toys you'll be able to pick up at San Diego Comic-Con next week. Artist Free Humanity has created 50 of these "Wars Not Make One Great" editions of the Jedi Master Yoda. It's the Power of the Force figure from the 1990s, but with the custom accessories of a paint bucket and roller, making it look like he created the graffiti of his own quote in the special packaging that has been hand stenciled, splattered and signed.
Each figure will cost $100 exclusively at Booth #5045 at San Diego Comic-Con.
Ghostbusters and Justice League Mighty Meeples from Cryptozoic
For those who don't know, meeples are little wood figures used to play various board games. And it turns out some companies like making custom meeples that may not necessarily be used to play games but just look good sitting on a shelf. The company Crytozoic has a couple new sets of meeples coming out this fall for two fan favorite franchises.
First up, Ghostbusters is getting an Ecto-1 collector's tin that has all four of the original Ghostbusters, Slimer and a large Stay Puft Marshmallow Man. In addition, a Hall of Justice collector's tin will come with the seven original members of the Justice League from DC Comics. Both of the sets will be available sometime this fall.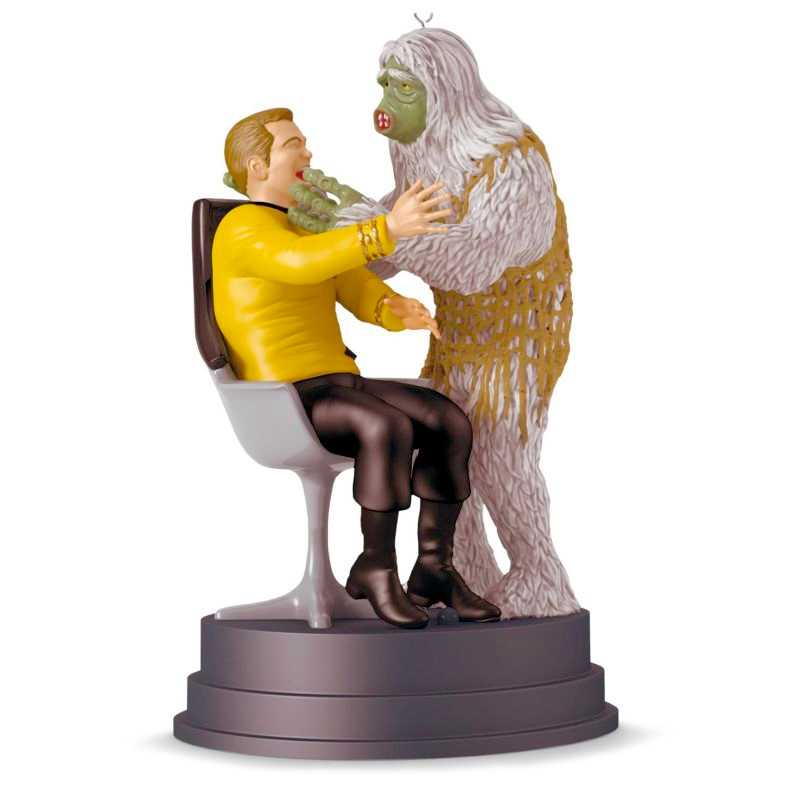 Star Trek: The Original Series - Hallmark "The Man Trap" Keepsake Ornament
There are plenty of new Hallmark Keepsake Ornaments available for purchase to prepare for your Christmas tree decorating this year. But Star Trek takes the cake with this ornament inspired by the original series. Inspired by the very first episodes of the series, titled "The Man Trap," the ornament features Captain Kirk being attacked by the Salt Monster from the episode with sounds from the episode itself.
The ornament is on sale now at Hallmark stores and online for just $29.95.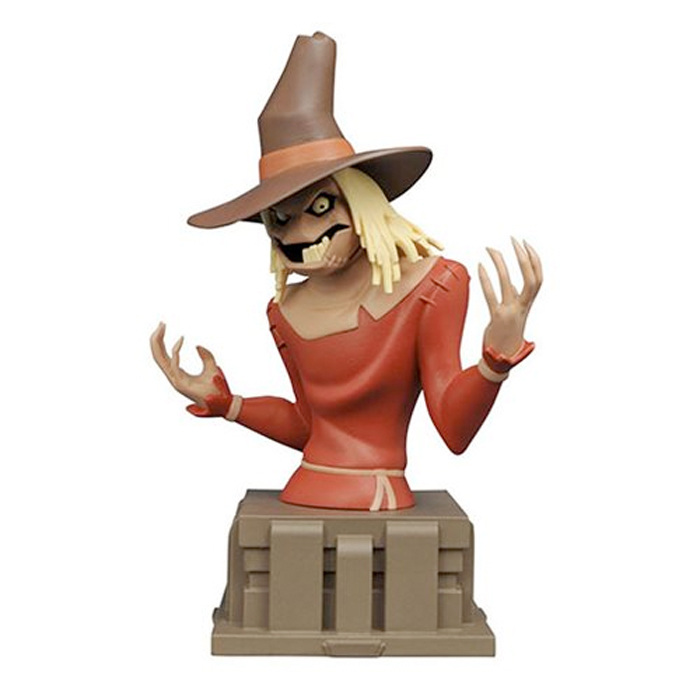 Batman: The Animated Series - Diamond Select Scarecrow Bust
Paying tribute to the villain from Batman: The Animated Series, Diamond Select has a new bust of Scarecrow, aka Dr. Jonathan Crane, available at Entertainment Earth. Standing at 6 inches tall on top of a pedestal modeled after the show's art-deco architecture, there will only be 3,000 pieces of this bust available, each with a certificate of authenticity. Pre-order it for $49.99 right now and you'll get it in November
Disney 2016 Sketchbook Christmas Tree Ornaments
Every year, The Disney Store comes out with new additions to their Sketchbook Ornament line to adorn your Christmas tree. Six of the new ornaments have just been revealed over at The Disney Store. The new ornaments include a scene from Alice in Wonderland featuring Alice, Doorknob and the Cheshire Cat; Elliott and the lighthouse from Pete's Dragon; Quasimodo and Esmerelda from The Hunchback of Notre Dame; a meditating Rafiki from The Lion King; the Siamese cats Si and Am from Lady and the Tramp; and Peter Pan and the Darling children from the top of Big Ben from Peter Pan.
Each ornament will cost you $16.95 and you can buy them by clicking the respective links above.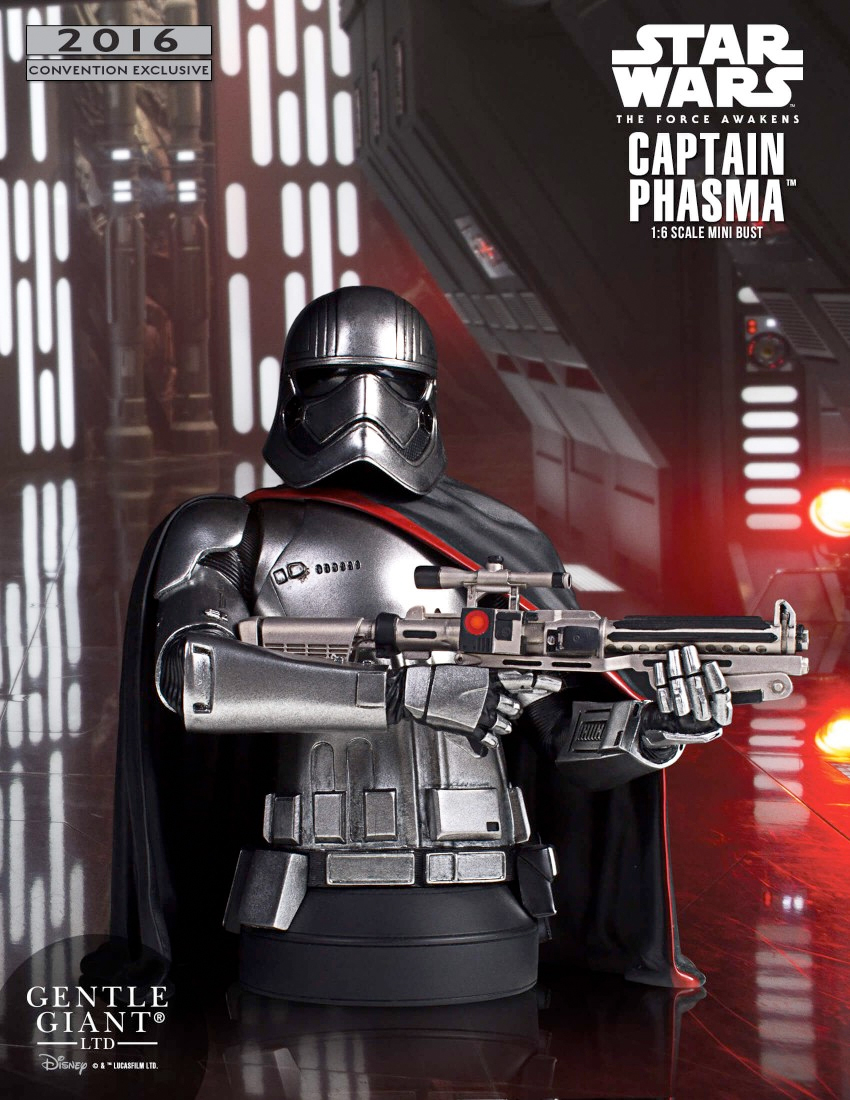 Star Wars: The Force Awakens - Gentle Giant's Captain Phasma Mini Bust
Gentle Giant has plenty of Comic-Con exclusives fans will be able to get their hands on, and Star Wars fans can add one more to the list with this Captain Phasma Mini Bust. There will only be 1,200 available for $120 each and if you're a Premiere Guild Member, you can pre-order right now for pick-up at the convention. At the very least, the armor looks shinier than most recreations of the character, but I just wish there was far more reflective paint used to bring Captain Phasma to life in collectible form.
DC's Legends of Tomorrow, The Flash, Constantine and More DC Collectible Figures
A new wave of figures in the DC Collectibles line is on the way (via TV Insider), this one bringing more of the characters from the DC Comics television shows to life. Supergirl and Martian Manhunter get their own figures in May 2017 along with new additions from DC's Legends of Tomorrow including Firestorm and Hawkgirl in February 2017 and Atom sometime later in the year. In addition, Arrow guest stars Constantine and Vixen get their own figures in May 2017 along with The Flash villain Zoom.
All the figures will retail at $28 and should be available online and in stores.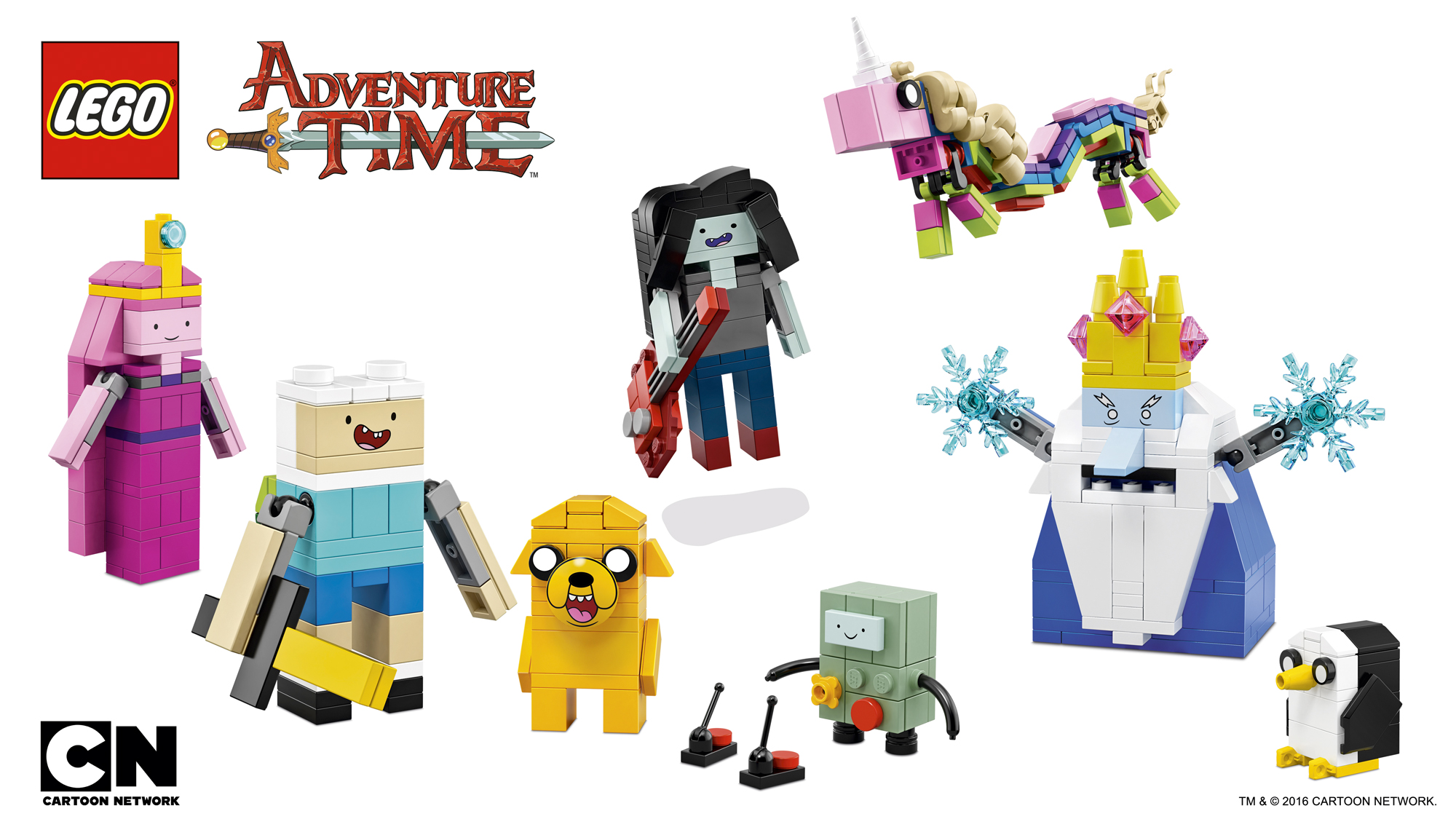 Adventure Time LEGO Set
After being approved as a LEGO Ideas set, the LEGO Adventure Time set that will allow you to put together building block versions of your favorite Adventure Time characters. Now our official first look at the set has been revealed, though the set doesn't feature some of the characters who were part of the LEGO Ideas set. The characters included will be Finn, Jake, Princess Bubblegum, Lady Rainicorn, Marceline, BMO, Gunter and Ice King.
The LEGO Adventure Time set will have 495 pieces and will be available for purchase on January 1st, 2017 with a retail price of $49.99.
Star Wars Rebels, Return of the Jedi and The Force Awakens Hasbro Action Figures
While there are many exclusives that will be sold at San Diego Comic-Con, there will also be plenty of new toys on display that you'll be able to find out shelves later this year. Hasbro has announced (via Nerdist) some new figures for the Star Wars Rebels, Return of the Jedi and The Force Awakens action figure lines that you can see above.
Some of the new releases include 12-inch electronic versions of Kanan Jarrus and Darth Vader from Star Wars Rebels, a 12-inch Imperial Scout Trooper with Speeder Bike from Return of the Jedi, a new 3.75 inch Rey from the beginning of The Force Awakens, and Hera Syndulla packaged with an A-Wing fighter from Star Wars Rebels.
All the figures will be available sometime in the fall of 2016.
Nintendo Entertainment System: NES Classic Edition
With Nintendo gearing up to potentially turn their video games into movies again, there's no better time to get acquainted with the classic games you used to play on the original Nintendo Entertainment System. Now the company will make it even easier for you to do that with the NES Classic Edition, a tiny version of the original system that comes pre-loaded with 30 classic Nintendo games. Here's the titles you'll find included:
Balloon Fight
Bubble Bobble
Castlevania
Castlevania II: Simon's Quest
Donkey Kong
Donkey Kong Jr.
Double Dragon II: The Revenge
Dr. Mario
Excitebike
Final Fantasy
Galaga
Ghosts'N Goblins
Gradius
Ice Climber
Kid Icarus
Kirby's Adventure
Mario Bros.
Mega Man 2
Metroid
Ninja Gaiden
Pac-Man
Punch-Out!! Featuring Mr. Dream
StarTropics
Super C
Super Mario Bros.
Super Mario Bros. 2
Super Mario Bros. 3
Tecmo Bowl
The Legend of Zelda
Zelda II: The Adventure of Link
Unlike the original games, there will be multiple suspend points so you don't lose your progress when you turn the system off.
This new system also comes with an HDMI cable, adapter and a classic Nintendo controller (which will also be available to purchase separately for $10). These controllers will also be compatible with a Wii Remote to play the other classic arcade games available on the system. The NES Classic Edition will cost $59.99 and will be available on November 11th.
Teenage Mutant Ninja Turtles: Out of the Shadows - Playmates Toys Bebop with Bike
Toy News International has a look at Playmates Toys Comic-Con exclusive figure featuring the villain Bebop from Teenage Mutant Ninja Turtles: Out of the Shadows. The henchman mutant comes with his trusty trike motorcycle which features two rocket grenade projectiles. There will only be 500 available at the convention, but they're only $30 each at Nickelodeon's booth #4113. Otherwise, you'll have to pick one up on eBay.
Nickelodeon: The Nick Box Subscription Service
Making its debut at Comic-Con, Nickelodeon will begin offering a subscription box service like LootCrate but based around all their nostalgic NickToons and TV shows. The first box will include a Ren & Stimpy ceramic glazed molded mug of Stimpy, a 4.5 inch vinyl Reptar figure from Rugrats, a plush of the dog Spunky from Rocko's Modern Life and some other items from Hey Arnold! and CatDog.
The subscription box will first be available at Nickelodeon's booth #4113 but you can already sign up for the service that will send you a Nick Box four times a year. You can either buy them individually for $49.99 when the next box is coming up, or you can pay for a whole year in advance and each box will only cost you $44.95.
***
That's all for The Toy Box this week. If you're looking for some superhero goodies and other memorabilia, be sure to check out the third page of Superhero Bits or our recurring Cool Stuff articles.
Read the previous edition of The Toy Box right here.