'Mortal Kombat 3' Is Still Kicking Around With Christopher Lambert And Time Travel Involved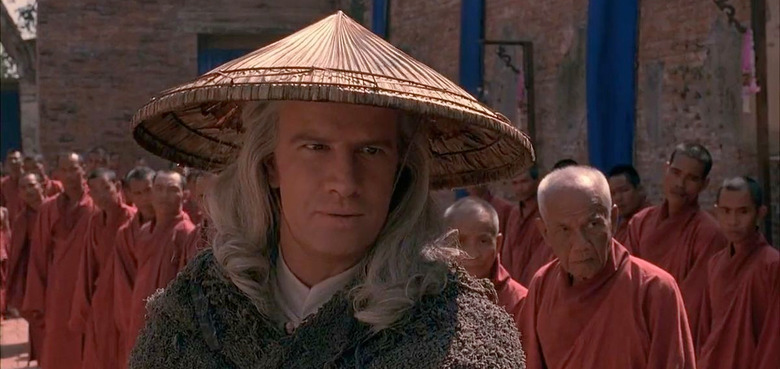 It's been years since New Line Cinema announced that they were developing another Mortal Kombat movie. Director Kevin Tancharoen was set behind the camera after helming the web series Mortal Kombat Legacy, but he left the project two years later. The last update we got on the project came last year when James Wan was brought on board as producer, and no more has been heard about the project since then. But that changes today.
Christopher Lambert, who played Raiden in the first Mortal Kombat movie, recently sat down for an interview where he revealed that he's currently in talks to return as the electric warrior in Mortal Kombat 3. In addition, he teased a new twist on the story that will incorporate time travel. Find out what we know about Mortal Kombat 3 from this recent revelation after the jump.
Speaking with Loaded, Lambert confirmed his involvement with the sequel and said:
They have a great idea for the third one. It will be very different. We are going to be traveling through time but in a very special way. So imagine characters having a battle in the middle of London and then whoosh, you smash through a window and find yourself on the hood of a New York cab.
I'm not sure that's what I would call a "great idea" but it'll certainly spice things up a little bit. The story has never been the strongest part of the Mortal Kombat movies. In fact, the story in both of them has been downright terrible, acting as a poor excuse to link a bunch of fight scenes together. Christopher Lambert even turned down reprising his role as Raiden in Mortal Kombat: Annihilation, saying, "I didn't want to do it because I didn't think the script was very good. I didn't like it. I liked the first one."
The first Mortal Kombat movie is undoubtedly better than the second one, but it's hardly a good movie. It hasn't aged well, especially in the visual effects department, and it suffers from trying to incorporate way too much fan service from the video game. When it works, it feels like a sci-fi version of Kickboxer, but when it doesn't, it feels like one of the cheesiest, cheapast sci-fi movies made in the 1990s.
It's been over 20 years since that first movie arrived, and Christopher Lambert has definitely aged quite a bit since then. But the time travel angle could help with any problems that might create in the narrative. Perhaps the time travel will allow for a soft reboot of the franchise with new versions of the characters we already met in the original movie.
I have a hard time believing that Mortal Kombat 3 will come together anytime soon, but it's a valuable property with international brand recognition, so Hollywood won't let it sit dormant for long. The last we heard about the script was that it was coming from Oren Uziel (22 Jump Street) and Dave Callaham (Godzilla) so maybe they can do something creative with the video game this time.