'Star Trek Beyond' Buzz: Justin Lin Gets A Classic Sci-Fi Franchise Back On Track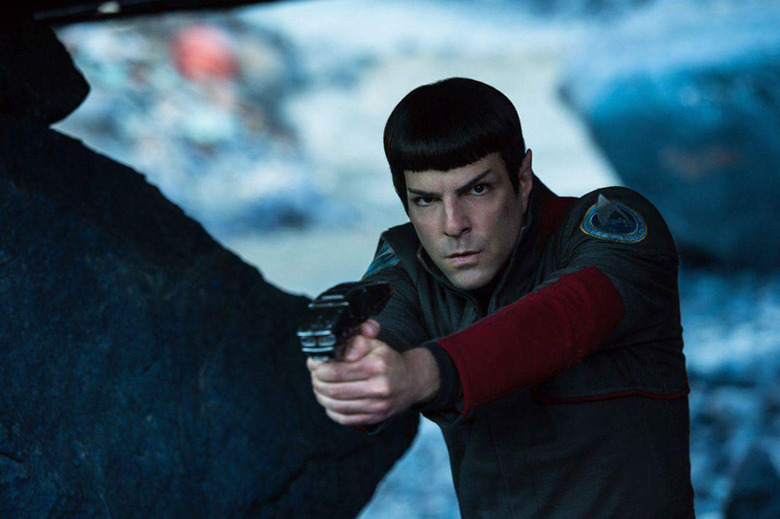 In a little over a week, Paramount will release Star Trek Beyond, the third film in the Kelvin timeline created J.J. Abrams' 2009 reboot. This time around Justin Lin takes over the reins as director, which led some fans to wonder if the franchise was ditching its roots for Fast and Furious-style adventures in space.
The good news is that by many accounts, Star Trek Beyond comes closer than any of the Kelvin movies at capturing the spirit of the original TV series. The other good news is that the film also seems to feature some really great action set pieces. The bad news is... well, actually, it doesn't sound like there is a ton of bad news. Not everyone was completely enamored of the film, of course, and hardcore Trek fans will surely have their own ideas about what a new Trek movie should or shouldn't be. But overall, it sounds like fans of this franchise can look forward to another fantastic adventure. Get the Star Trek Beyond buzz below. 
While full-length reviews of Star Trek Beyond won't be in for another few days, following last night's press screenings a number of critics took to Twitter to share their thoughts. (The mere fact that Paramount was letting them react on social media is a sign that the studio is feeling pretty confident about this film.)
/Film's Jack Giroux was a big fan.
.... but /Filmcast's Jeff Cannata was somewhat less impressed with Star Trek Beyond as a Star Trek film.
IMHO it is time to put this version of Stat Trek to bed. On to the next reboot please.

— Jeff Cannata (@jeffcannata) July 14, 2016
Star Trek Beyond is a well made scifi adventure. It just isn't Star Trek. It's a pretty good Mass Effect movie, though, if you want that.

— Jeff Cannata (@jeffcannata) July 14, 2016
Just bummed that this is what Star Trek is now. Well executed movie though.

— Jeff Cannata (@jeffcannata) July 14, 2016
Lot of people misunderstanding my reactionsto Trek. It's well made but wholly un-special.Has no interesting voice. Just another action flick

— Jeff Cannata (@jeffcannata) July 14, 2016
Now let's move on to some other critical reactions.
Two #StarTrekBeyond dedications appear in the closing credits:

"In Loving Memory of Leonard Nimoy"

"For Anton"

— jen yamato (@jenyamato) July 14, 2016
#StarTrekBeyond feels like a TOS episode in a way that gives this new Trekverse a really long future. Fun, pretty dark, lots of fan moments

— jen yamato (@jenyamato) July 14, 2016
Some of #StarTrekBeyond's best moments are Sofia Boutella moments. Great addition, kickass character, hope she comes back for more Trek 🔥

— jen yamato (@jenyamato) July 14, 2016
No idea what the hardcore will think, but I reeeeeally enjoyed STAR TREK BEYOND. This should have been the sequel to '09.

— DrewMcWeeny (@DrewMcWeeny) July 14, 2016
Was so happy watching Star Trek Beyond. Love this cast. Movie isn't perfect but it's funny, filled with great action, and isn't on Earth!

— Steven Weintraub (@colliderfrosty) July 14, 2016
Just saw #StarTrekBeyond, and it's infinitely better than Star Trek Into Darkness. One of the most entertaining Trek films.

— William Bibbiani (@WilliamBibbiani) July 14, 2016
Actually, I can say that #StarTrekBeyond is terrific. Funny, exciting and touching.

— Scott Collura (@ScottCollura) July 14, 2016
Just saw Star Trek Beyond. I am allowed to say I really, really enjoyed it. Way better than Into Darkness & closest to spirit of TOS. 🖖

— Jim Vejvoda (@JimVejvoda) July 14, 2016
Mixed feelings about STAR TREK BEYOND. #hottake

— Ben Pearson (@benpears) July 14, 2016
#StarTrekBeyond was great fun at warp speed. Still lacking #Roddenberry-an moral dilemmas, but a welcome course correction for the franchise

— Scott Huver (@thehuve) July 14, 2016
Big sigh of relief: STAR TREK BEYOND is a blast. Easily the best of the new series.

— Don Kaye (@donkaye) July 14, 2016
Had a lot of fun with Star Trek Beyond! Simple McGuffin story, but it has great energy, character utilization, and big blockbuster moments.

— Eric Eisenberg (@eeisenberg) July 14, 2016
My feelings about #StarTrekBeyond are being sorted out, but the indisputable fact is Karl Urban is this film's MVP.

— Courtney Howard (@Lulamaybelle) July 14, 2016
STAR TREK BEYOND is very entertaining, surprisingly earnest, occasionally dopey (but in a good way). I think Trek fans will really dig it.

— Bilge Ebiri (@BilgeEbiri) July 14, 2016
Simon Pegg's co-writing on @StarTrek Beyond balances humor & action which makes up for a few big hiccups in an otherwise entertaining flick

— Jeff Goldsmith (@yogoldsmith) July 14, 2016
The word is given!! #StarTrekBeyond is a blast! Great fun, action, humor! A throwback to The Original Series! LOVE! pic.twitter.com/pTkzFdIJ1p

— Scott Mantz (@MovieMantz) July 14, 2016
Paramount's Star Trek reboot got off to a promising start with Abrams' 2009 film, but then stumbled a bit with 2013's Star Trek Into Darkness. It's great to hear Star Trek Beyond manages to right the ship without completely torpedoing what made the original franchise so special in the first place (at least according to most of the self-proclaimed Star Trek fans quoted above). What a way to mark the 50th anniversary of the sci-fi franchise.
Star Trek Beyond opens July 22.
"Star Trek Beyond," the highly anticipated next installment in the globally popular Star Trek franchise, created by Gene Roddenberry and reintroduced by J.J. Abrams in 2009, returns with director Justin Lin ("The Fast and the Furious" franchise) at the helm of this epic voyage of the U.S.S. Enterprise and her intrepid crew. In "Beyond," the Enterprise crew explores the furthest reaches of uncharted space, where they encounter a mysterious new enemy who puts them and everything the Federation stands for to the test.