Neill Blomkamp's 'Alien' Film Will Give Ripley An Ending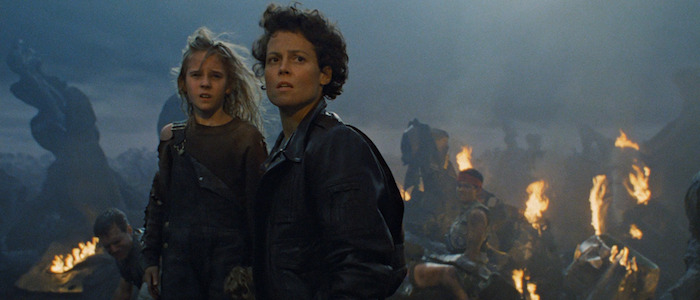 While Sir Ridley Scott is currently shooting Alien: Covenant in Australia, Neill Blomkamp's Alien sequel remains on hold. Because Scott was adamant about his follow-up to Prometheus reaching theaters first, Blomkamp and star Sigourney Weaver have gone off to work on other projects, at least in the meantime. There was — and there probably still is – some doubt over whether the sequel will get made, but Weaver remains confident it'll happen.
Below, get the latest Alien sequel update from Sigourney Weaver.
On Alien Day, Neill Blomkamp shared another piece of concept art from his Alien sequel — a glimpse at an all-grown-up Newt. His film is more of a direct sequel to the first two films in the franchise than a continuation of the events in Alien 3 and Alien Resurrection, although Blomkamp says he isn't undoing those stories.
The last time we saw Ripley, she was returning to Earth with Call (Winona Ryder) and Johner (Ron Perlman). The whole third act of Alien: Ressurection ended her story on an underwhelming note, but Weaver says Blomkamp's film will give the iconic character the satisfying ending she deserves (Source: EW):
It's a great story and it's satisfying to me to give this woman an ending... The script itself has so much in it that's so original, but also really satisfies the, I would say, the primal needs of the aliens. It's a tribute to all of the great work that the other directors have done, in a way, but goes in a completely new direction. I hope we'll do it.
Weaver went on to say if it wasn't for Alien: Covenant, Blomkamp would've made the sequel by now:
Fox asked us to delay so Ridley could shoot his [second] Prometheus movie. That was too bad because we would have already done it by now. Now that we're waiting for that, I have a couple of Avatars to do and Neill has The Gone World, so we'll have to see what happens when we get back, when those projects are over.
Weaver added she hopes we'll see the movie in a couple of years. Alien: Covenant doesn't come out for another 13 months, so we have a little while to go before we see if 20th Century Fox sticks to the plan and allows Blomkamp direct the sequel once Scott finishes his film. Weaver recently worked with the District 9 and Chappie director on another project, but she wasn't at liberty to say what it is. Blomkamp is presently adapting Thomas Sweterlitsch's time travel novel "The Gone World" for 20th Century Fox.