First Look: 'The Walking Dead' Season 7 Premiere Looks A Lot Like 'The Walking Dead' Season 6 Finale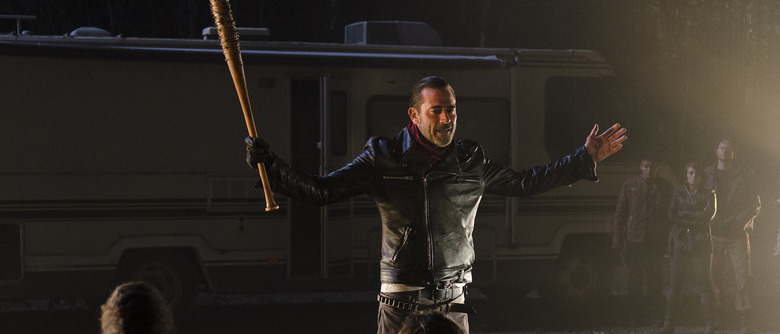 By the time The Walking Dead season 7 kicks off this fall, it will have been six months since the season 6 finale. But within the world of the show, no time will have passed at all. The zombie drama promises to pick up right where it left off, finally revealing what really happened after Negan swung that bat. And yes, you will find out right away — executive producer Greg Nicotero confirms they'll resolve that controversial cliffhanger in the first episode of season 7.
But he's not ready to spill all the details quite yet. What he is willing to reveal is a Walking Dead season 7 first look, featuring that guy you already love to hate. 
Entertainment Weekly shared the Walking Dead season 7 first look. Spoilers for season 6 follow from here on out.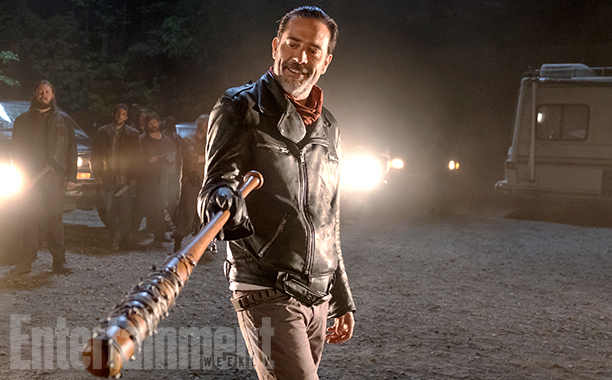 The image at the top of the page is from the Walking Dead season 6 finale. The photo right above this sentence is from the Walking Dead season 7 premiere. Yep, they look basically the same.
As Walking Dead fans no doubt remember, season 6 left off on a major cliffhanger. Negan picked a victim to kill and took his swing, but the show cut out before revealing which character had bit the dust, leaving viewers to spend the next several months guessing. Fortunately, Nicotero, who directed the season 6 finale and the season 7 premiere, promises they'll clear up that mystery right away. "Yes, who was at the receiving end of Negan's bat will be revealed in the first episode," he said.
The decision to keep the victim's identity a secret was met with much grumbling from fans, who complained that it felt like a cheap trick. But take heart, Walking Dead watchers, at least you're not stuck waiting as long as Game of Thrones viewers were after that notorious cliffhanger from the season 5 finale. Jon Snow's fate was maybe the worst-kept secret in TV history, and yet the show waited until the very end of the second episode of season 6 to confirm what basically everyone already knew. The mere fact that Walking Dead fans are still speculating is proof that this show has done a way better job of covering their tracks.
The Walking Dead season 7 premieres this October.