'It' First Look Teases Bill Skarsgård's Pennywise The Dancing Clown With New Image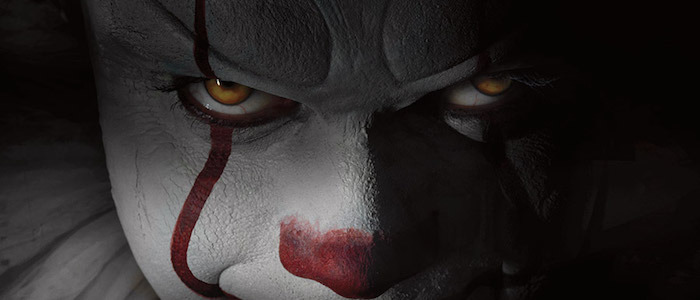 Stephen King has written many great books (and his fair share of stinkers), but few linger in the public consciousness quite like 1986's It, which remains one of the most ambitious, unsettling, and profoundly frightening horror novels of all time. Over 1,138 pages, King told the epic story of an unnamed supernatural force that terrorized the town of Derry, Maine over decades and the small group of friends that stood against it. And while this creature had many incarnations, it is best remembered for the first form the reader witnesses: Pennywise the dancing clown.
After years of development, It is finally becoming a feature film under the direction of Mama's Andrés Muschietti, with Allegiant star Bill Skarsgård going under the creepy face paint to play Pennywise himself.  Now, our first look at Skarsgård in character has arrived and if you're already afraid of clowns, this won't do you any good.
Entertainment Weekly debuted the image and the new design is refreshingly straightforward. An evil clown that drags young children into storm drains and tears them limb-from-limb is terrifying on its own – you don't need to add too many bells and whistles. There are a few creepy details worth noting, like the inhuman yellow eyes and the cracked skin that suggests we're not looking at traditional make-up...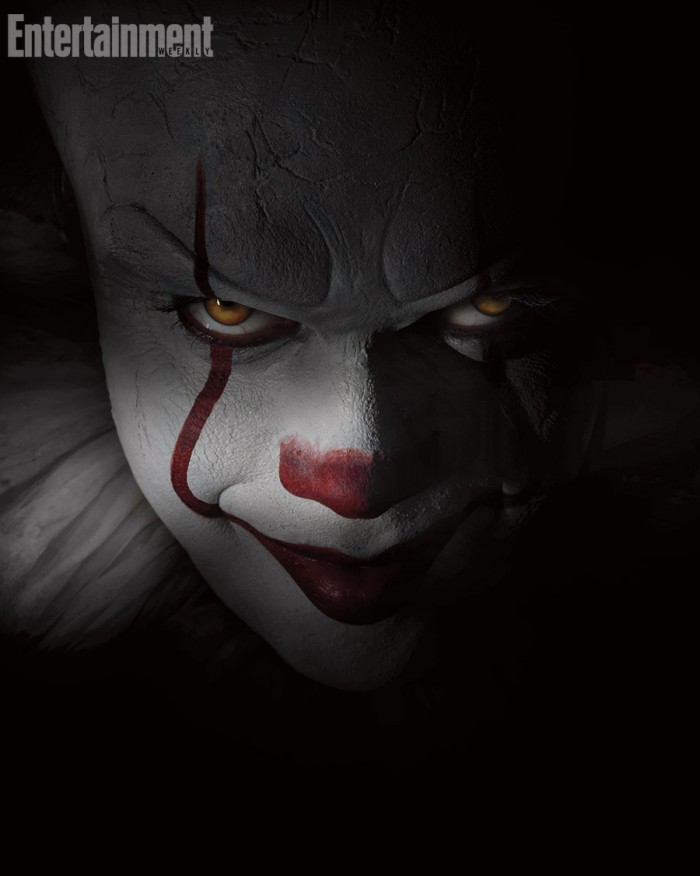 As many traumatized people remember, the great Tim Curry played Pennywise in the 1990 television miniseries adaptation of It, a well-intentioned project that watered down King's story and characters to be suitable for wider audience. However, Curry's performance remains terrifying to this day and Skarsgård's work will undoubtedly be compared to it when all is said and done. The actor seems to keenly understand exactly what he's playing here:
It's such an extreme character. Inhumane. It's beyond even a sociopath, because he's not even human. He's not even a clown. I'm playing just one of the beings It creates.
Skarsgård also told EW about Pennywise's twisted sense of humor, which seems appropriate for an evil clown:
It truly enjoys the shape of the clown Pennywise, and enjoys the game and the hunt. What's funny to this evil entity might not be funny to everyone else. But he thinks it's funny.
Skarsgård is saying all of the right things (you can follow the link above for more quotes) and I enjoyed Muschietti's Mama, which was inventive and beautifully shot and showcased the filmmaker's strong eye for filming monsters. However, I can't help but remember that this was almost a two-part Cary Joji Fukunaga project before the True Detective and Beasts of No Nation director dropped out due to those dreaded creative differences. This is the kind of source material that deserves a truly relentless and fearless adaptation, so we can only cross our fingers and hope we don't get a watered-down production.
It is set to hit theaters on September 8, 2017. Entertainment Weekly confirms that that the film will only adapt half of the book, taking the scenes set in the '50s and moving them into the '80s. If It is a success, a sequel set in the modern day will adapt the second half. Between this and the currently filming Dark Tower movie, is is a very interesting time to be a Stephen King fan.