'A Monster Calls' Trailer: Liam Neeson Is A Different Big Friendly Giant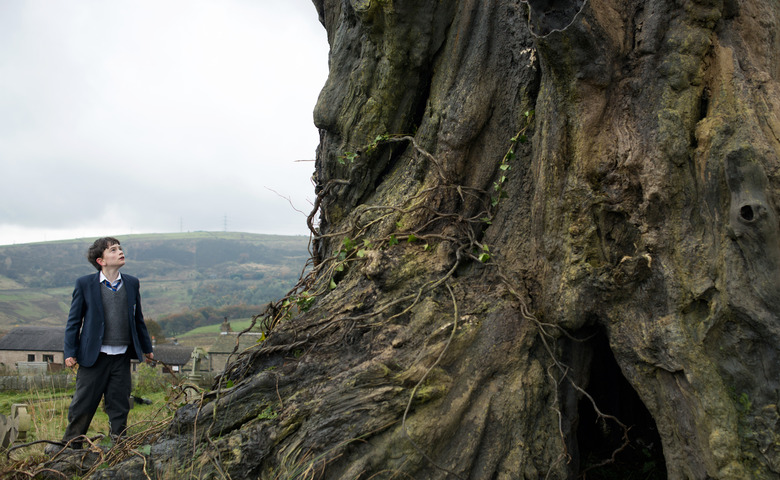 Who knew that lonely kids befriending gigantic but surprisingly sweet monsters would turn out to be such a big theme of 2016? Earlier this month we got The BFG, Steven Spielberg's take on the Roald Dahl classic, and next month we'll get Pete's Dragon, David Lowery's updated version of the 1977 Disney film. Then this fall brings A Monster Calls, J.A. Bayona's adaptation of Patrick Ness' book.
Lewis MacDougall leads the film as Conor, a 12-year-old who's having a tough time all around. At home, he's struggling with his mother's illness; at school, he's targeted by bullies. He escapes into a fantasy world with the help of a giant tree monster voiced by Liam Neeson. It all sounds very silly when I put it that way, I know, but A Monster Calls looks like a visually sumptuous treat and a real tearjerker to boot. Watch the A Monster Calls trailer below. 
I'm a sucker for movies that explore unwieldy emotions through surrealism and fantasy, so A Monster Calls looks right up my alley. The fairy tale-like scenes here are not incidental — they are a powerful visual manifestation of a boy's anger and fear and grief. Neeson, who's spent much of his recent career chasing down kidnapped relatives, is surprisingly perfect as the low, rumbling voice of a giant tree monster. Meanwhile, Felicity Jones and Toby Kebbell, as the boy's parents, help the film keep one foot solidly planted in the real world.
Focus Features has A Monster Calls in theaters October 21.
A visually spectacular drama from acclaimed director Juan Antonio Bayona ("The Impossible"), based on the award-winning children's fantasy novel. 12-year-old Conor (Lewis MacDougall) attempts to deal with his mother's (Felicity Jones) illness and the bullying of his classmates by escaping into a fantastical world of monsters and fairy tales that explore courage, loss, and faith.