LOL: Samuel L. Jackson Recaps 'Game Of Thrones'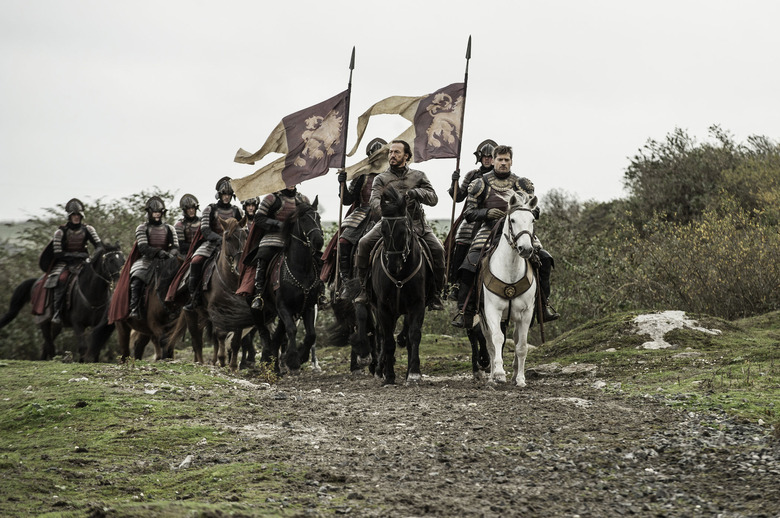 So you've finally decided to cave and see what this Game of Thrones show is about. Unfortunately, if you're just joining us now, that means you're behind by a full 60 hours of dragons, ice zombies, and super-intense politicking. Fortunately, Samuel L. Jackson is here to get you up to speed in no time.
The Oscar-nominated actor has a hilarious profanity-laden recap of the fantasy drama which will get you up to speed in under eight minutes. The video focuses mostly on the first five seasons, so you're more or less on your own with regard to season six. But that's still a savings of just under 50 hours. Oh, and if you've already seen all six seasons of Game of Thrones, that's okay — you'll still want to watch this because, well, it's a Samuel L. Jackson Game of Thrones recap.
One of my favorite things about this recap is just how annoyed Jackson gets at the obsession with dragons. "F*** those dragons! Focus!" is the first thing he says. He does finally reveal a fully grown dragon at the end, but not without a few choice parting words: "After all that, you're still stuck on these f***ing dragons? Okay, you want to see a dragon, motherf***er? All right, here you go! Here you f***ing go! You happy now?" Game of Thrones may be set in a fantasy universe, with the monsters to show for it, but at it's core it's really a story about people — regular, petty, greedy, imperfect people.
Meanwhile, this line pretty much sums up the show in a nutshell: "Everybody thinks they should sit on the Iron Throne! This guy, this guy, this guy, too." Well, and maybe this one: "Don't get attached. I'm just saying." Or perhaps it's this one: "And remember what I said about winter a few minutes ago? It's almost here, and still, ain't nobody ready! Even though they've been saying 'winter is coming' for four seasons now!" Seriously, Westeros, get your act together. And Mr. Jackson, if you ever want to offer more of your cutting Game of Thrones analysis, we're dying to hear it.