Quentin Tarantino Only Has Two Movies Left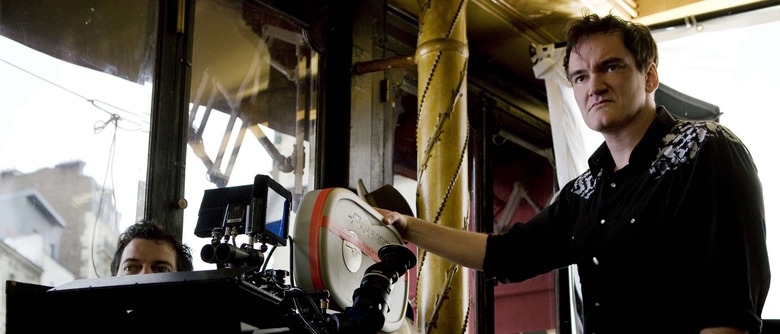 Quentin Tarantino has the kind of career just about any filmmaker would envy. He's worked with huge names like Leonardo DiCaprio and Ennio Morricone, revived John Travolta's career, and transformed Christoph Waltz and Michael Fassbender into international stars. His films are hits with budding cinephiles, picky critics, and general audiences alike. They're constantly quoted in casual conversations, pored over for thinkpieces, and memorialized on dorm room posters.
But even so, Tarantino has no intention of doing this forever. The filmmaker has long maintained that he plans to quit directing after his tenth film, and he recently reiterated that that's still the case. For those keeping count, The Hateful Eight was his eighth film, since Tarantino counts both Kill Bills as one movie.
Variety reports Tarantino recently stopped by the Jerusalem Cinematheque to present Pulp Fiction and deliver a long, wide-ranging talk. Among other things, he revealed that he only plans to direct two more films:
I'm planning on stopping at 10. So it'll be two more. Even if at 75, if I have this other story to tell, it would still kind of work because that would make those 10. They would be there and that would be that. But the one he did when he was an old f***ing man, that geriatric one exists completely on its own in the old folks' home and is never put in the same shelf next to the other 10. So it doesn't contaminate the other 10.
Tarantino has mentioned this ten-film plan several times in the past. Here he is in 2012:
I just don't want to be an old-man filmmaker. I want to stop at a certain point. Directors don't get better as they get older. Usually the worst films in their filmography are those last four at the end. I am all about my filmography, and one bad film f***s up three good ones. ... When directors get out-of-date, it's not pretty.
I don't believe you should stay on stage until people are begging you to get off. I like the idea of leaving them wanting a bit more. I do think directing is a young man's game and I like the idea of an umbilical cord connection from my first to my last movie. I'm not trying to ridicule anyone who thinks differently, but I want to go out while I'm still hard. ... I like that I will leave a ten-film filmography, and so I've got two more to go after this.
Obviously, it's not always the case that directors get worse as they get older. Just last year, we (along with everyone else on the planet) were singing the praises of Mad Max: Fury Road directed by George Miller, who was 70 years old when the film came out. And Tarantino has acknowledged that he could change his mind. Maybe he'll feel differently after movie nine or movie ten.
As for what the ninth of his ten movies will be, Tarantino hasn't confirmed anything. But he has floated a few possibilities over the years. He mentioned earlier this year that he was looking at a 1930s gangster movie set in Australia, and Morricone has spilled that he and Tarantino are planning to work together again. Whatever it is, just don't take it for granted — it could be the second-last Tarantino film you'll ever see.