MoviePass Reveals Official New Subscription Plans, Starting As Low As $15 A Month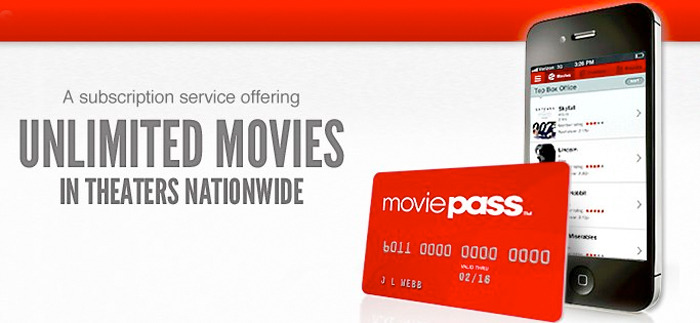 Over a week ago, there were rumblings of some new MoviePass subscription plans being tested with the subscription service's CEO Mitch Lower looking to offer a variety of pricing options with an eye towards even offering a plan as low as $20. Now Movie Pass has officially announced their new pricing plans, and the lowest plan actually comes in at $15, but there are some specifics that will change how much you'll end up paying for the subscription you want.
Find out about the new MoviePass prices and plans after the jump.
Engadget has the official new pricing plans which include an unlimited option that's pricier than the current subscription offered. Regardless of which market you live in, you'll have the option to get a subscription that lets you see 2 movies a month, 3 movies a month or an unlimited number of movies each month, but the cost will be different depending on where you live. Higher populated areas will be more expensive. Here's how the markets and their respective prices break down:
Tier 1 markets: $15 for 2 movies; $22 for 3 movies; and $40 for unlimited
Tier 2 markets: $18 for 2 movies; $27 for 3 movies; and $45 unlimited
Tier 3 markets: $21 for 2 movies; $31 for 3 movies; $50 for unlimited
The good news for cinephiles who want to pay for the more expensive unlimited plan is that the 24-hour window between movie ticket purchases is going away, at least with the new plans. MoviePass is looking to phase out the 24-hour rule in general, but it's not clear if that's something that will happen for current subscribers in the near future, or if they'll only lose that restriction once they are given the option (or likely eventually forced) to choose a new plan.
For now, not all customers are being forced into these new plans, because MoviePass is continuing to research how their customers use the service, especially the new customers they're hoping to get from these new plans. As for the subscribers who signed up for the test plans that were revealed recently, they can take advantage of the new price plans in September.
The idea behind the new pricing model is to help people who only see two or three movies a month save a little bit of money. To help get more users interested, there's no longer any pesky cancellation fees or full-year commitments. You sign up for a month, cancel for a couple months, and easily come back later if you feel like it.
This feels like a somewhat better business model for MoviePass, but these new subscription plans still don't allow you to buy tickets for 3D and IMAX, even though it's something they're considering implementing in the future. You also still can't buy tickets online in advance, which is something that customers in larger cities, where assigned seats are purchased, have been looking for.
As for any future plans for MoviePass, they're also hoping to include some other bonuses for subscribers, such as advance screenings, deals on merchandise and more. They also hope to get rid of the credit card that accompanies the service now and eventually have it all done through the phone.
As usual, stay tuned for any further updates to MoviePAss.