Exclusive: The 'Let's Be Evil' Poster Promises A Nightmarish Spin On Augmented Reality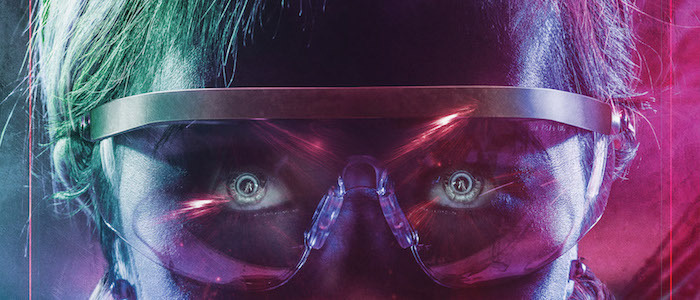 Unless you've been living in total isolation for the past week, you've surely heard about Pokemon Go, the new mobile game that uses augmented reality technology to allow users to search the physical world for adorable little monsters that only exist through their smartphone cameras. While virtual reality has been the Next Big Thing in gaming for years now, Pokemon Go feels like the first step in a revolution. VR may still be huge, but AR has officially tapped into the public consciousness in a big way.
In other words, IFC Midnight couldn't have picked a better window to begin marketing their new film Let's Be Evil, which revolves around augmented reality. And creepy artificial intelligences. And creepier children. And what certainly looks like a body count. We're pleased to premiere the official poster for director Martin Owen's new film, which you can check out below.
Let's Be Evil follows a team of adults who are hired to assist a group of gifted children who are participating in a fancy new education program. However, this fancy new education program takes place in some kind of futuristic facility and those gifted children are equipped with augmented reality glasses that are supposed to provide special assistance in their day-to-day lives. As the title implies, things start to go haywire.Entertainment Weekly premiered the trailer, which you can watch in the embed below. Despite the very modern premise, that droning '80s synth score should tell you exactly which flavor of horror/sci-fi this movie wants to be.
Here's the official synopsis:
In LET'S BE EVIL, three chaperones are hired to supervise an advanced learning program for gifted children, who wear Augmented Reality Glasses to assist in their education. Contained within a secure, underground facility, events quickly spiral out of control.
LET'S BE EVIL was written by Martin Owen with story by Elizabeth Morris and Owen, based on an original idea by Jonathan Willis. The film stars Elizabeth Morris (L.A. SLASHER), Elliot James Langridge, Kara Tointon (MR. SELFRIDGE) and Isabelle Allen (LES MISERABLES) and was produced by Jonathan Willis. The film made its world premiere at January's Slamdance Film Festival, with Owen being hailed as a "young Christopher Nolan" by the event's founder, Paul Rachman, as reported in VARIETY.
Let's Be Evil will open in select theaters and will be available on VOD and the usual digital platforms on August 5, 2016. For additional details about whether it will be playing near you and how you can see it, head on over to the official site. In the meantime, you can check out the colorful and creepy new poster below.