Sega's 'Rent-A-Hero' Video Game Getting Movie Adaptation By 'Hot Tub Time Machine' Director Steve Pink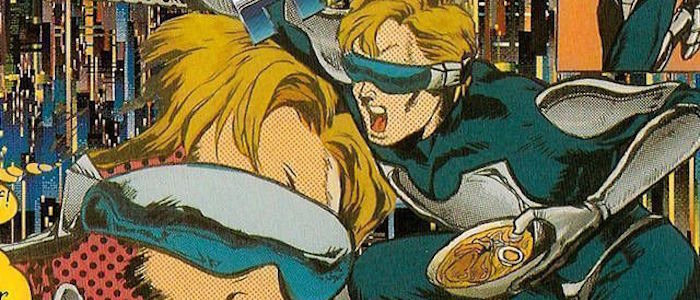 It was probably only a matter of time before someone succeeded in bringing Warcraft or Assassin's Creed to the big screen, and it shouldn't come as any surprise that adaptations of titles like Sonic the Hedgehog, Minecraft, and Tomb Raider are in the works as well. They're all big names with built-in fanbases that will (fingers crossed) turn up opening weekend to see how things turned out. But Sega's next game-to-movie effort is a bit more unexpected.
Steve Pink (Hot Tub Time Machine) will direct a movie based on Rent-a-Hero, the 1991 Sega game. If you're wondering what it is and why you've never heard of it, the answer to the second question is that it was never actually released in the U.S. The answer to the first is that the movie will center around a startup that's basically "Uber for heroes."
Released in Japan in 1991, Rent-a-Hero followed Taro Yamada, a young man who orders a pizza and accidentally receives cutting-edge combat armor instead. He puts on the gear and decides to become a hero for hire, taking on random odd jobs and heroic tasks for his hometown. The game was remade in 2000 and there were plans for a U.S. release, but those fell through.
The Rent-a-Hero movie sounds a little bit different from the source material. According to The Hollywood Reporter, it centers on a brilliant slacker who joins a tech startup that's like Uber, but for heroes instead of drivers. When our protagonist discovers that his bosses are planning to weaponize the technology, he and his co-workers join forces to stop them.
In addition to directing, Pink will also write the script with Jeff Morris, who wrote Grumpy Cat's Worst Christmas Ever and Kevin James' upcoming Netflix movie The True Memoirs of an International Assassin. Besides Hot Tub Time Machine, Pink's directing credits include Accepted, the About Last Night remake, and Hot Tub Time Machine 2. As a screenwriter, he has worked on High Fidelity and Grosse Point Blank.
Pink's official statement should give you some idea of the tone of the new film:
As SEGA fans, we are excited to dive into the near future with these Rent a Heroes, and explore what it means to be an everyday hero in a comedic, high-energy, action adventure.
Stories International (the production arm of Sega Group and Hakuhodo DY Group) will produce along with Marc Platt (Drive, Scott Pilgrim vs. the World). Evan J. Cholfin will executive produce. Stories International president Tomoya Suzuki said:
'Rent a Hero' is high-concept video game, yet has a very important theme we believe audiences today can connect with—we can help our society at our own capacities. We found the perfect creative team in Steve and Jeff to bring this unique action adventure based on one of our favorite SEGA titles to life as a feature film.
Honestly, it's not a bad premise for a movie. And in fact, this property's relative obscurity could turn out to be a good thing. As with that Flatliners remake, there's little risk of pissing off a devoted fanbase, so the filmmakers could feel free to do their own thing with the concept.
Rent-a-Hero is one of several titles Sony is trying to turn into films, shows, or digital series, along with Golden Axe, Virtua Fighter, and The House of the Dead. No start date, release date, or cast has been announced for the Rent-a-Hero movie.