Rogue One Bits: An Interesting Planet Name, Notes On Tone, And A Fun Interview With Ben Mendelsohn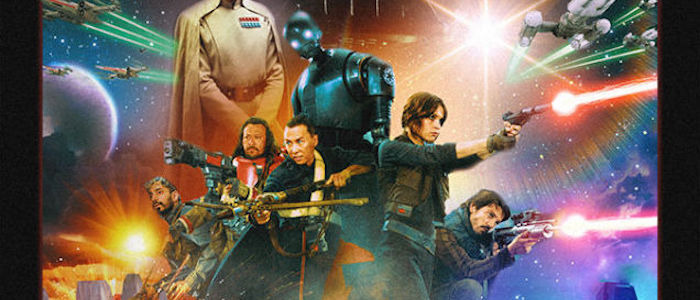 In this edition of Rogue One Bits:
The name of a very important planet has been revealed.
Some new toys may offer a hint about some Rogue One: A Star Wars Story ships.
A note on the film's tone from an unlikely source.
Ben Mendelsohn sits down for a very entertaining interview.
Sound supervisor Matthew Wood talks Rogue One.
A very cool fan-made poster.
If you really want to stay on top of story details for any major movie, you can't just pick apart a trailer or wait for someone to publish a scoop of some kind. What you really need to do is look at the film's merchandise, which tends to spoil story points from upcoming releases time and time again. It's always the leaky part of the blockbuster ship. In this case, it's an upcoming Rogue One: A Star Wars Story book, which was discovered and picked apart by Jedibibliothek and BookManager.com. They even had preview images from the book before they swiftly vanished. However, one interesting detail (via Making Star Wars) remains online. It's the most minor of minor spoilers, but consider this your warning.
Still here? Okay, it seems that there is a very important planet in Rogue One, a "secluded world" known as Scarif. More importantly, it seems that "huge tracts of land were excavated to build ships and supply the Death Star." The planet is also protected by shields, so any kind of rebel invasion is going to be tricky. In short: the Death Star is seemingly being constructed near Scarif, which has been ravaged by the Empire to supply their monstrous battle station. I think we can safely assume that Jyn Erso and her crew will be paying this planet a visit, probably in a "U-Wing" ship (previously glimpsed in concept art) piloted by Bodhi Rook. Man, how nice is it that we actually have character names now?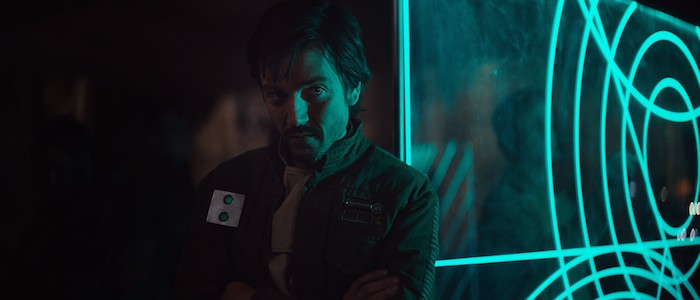 While we're on the subject of toys giving away details, a listing for new Star Wars Hot Wheels toys on Entertainment Earth unveiled a few tiny morsels of infuriation for interested parties. They seem to have updated it to remove at least one interesting tidbit, but the internet is forever and you can check out the original version over here. It's not entirely clear if these are Rogue One products, but considering the timing, it would certainly make sense. Anyway, the original listing refers to a spaceship called The Raven, an orange Snowspeeder, and a Mon Calamari Cruiser, so make of that what you will. The Raven certainly sounds like a good name for a hero ship (or even a ship owned by a villain) and the other two ships are recognizable without being overused, which makes them solid contenders to show up once again.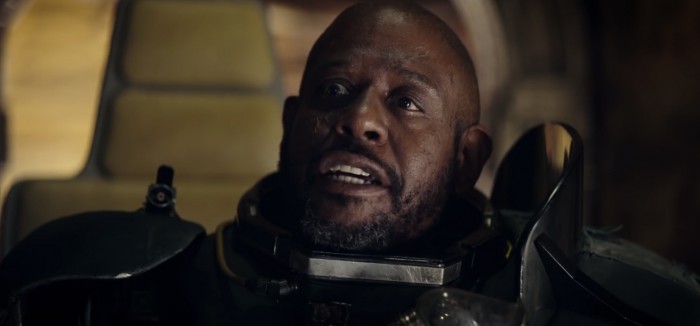 Why don't we keep the merchandise discussion going? Deadline caught up with Marty Brochstein of the International Licensing Industry Merchandisers' Association, who was understandably pleased by the $700 million in retail sales that Star Wars: The Force Awakens generated in 2015. However, he notes that everyone expects 2016 won't be quite as big and his reasoning is very interesting:
The natural order of things is that the second year won't be as big as the first. You have a very different story this year with Rogue One: A Star Wars Story. It's for an older audience than The Force Awakens. And by nature those don't draw as much licensing business.....It would be the natural way if things weren't quite at the level they were in 2015.
Everyone has been wondering about the tone of Rogue One (especially since those reshoots were revealed), but if the folks at the toy companies are prepared for a film that will cater to older audiences, that could be a strong indication that the original war movie angle is very much intact.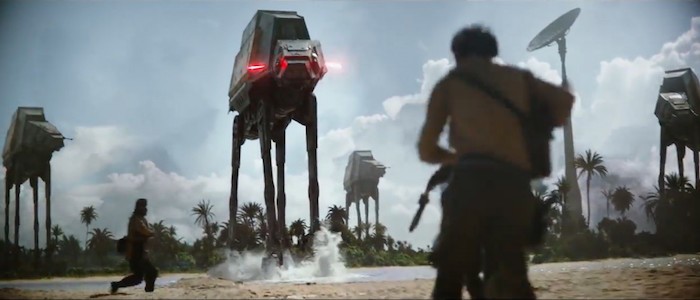 IGN recently caught up with Rogue One supervising sound editor Matthew Wood and he spoke about finding the appropriate balance of old and new sounds in the film, especially since it takes place directly before the original 1977 Star Wars:
Star Wars just has such a great legacy of sound that we've kept really special over the years. Ben Burtt, who's the original sound designer from the first Star Wars in '77, was my mentor, and we've worked together on many, many projects. He's still active at Skywalker Sound, almost 40 years after the first Star Wars. We've kept those sounds very special, so they're only used in Star Wars films. I mean, Skywalker Sound, we do a ton of other movies, but we keep those sounds special, because we want that. You hear a TIE fighter, you're gonna know that's a TIE fighter. It's not going to be like, 'Oh, I heard that in Transformers. I heard that in Pirates of the Caribbean.' This is the TIE fighter, and it hasn't been spread out amongst all the different movies.
For the full interview, make sure you follow the link above.
Ben Mendelsohn was a guest on Jimmy Kimmel Live and yes, they do talk about Rogue One. Well, to be honest, they talk around Rogue One, with Mendelsohn humorously deflecting most of Kimmel's questions, even the ones that have been directly confirmed from official sources in recent weeks. Still, it's a fun chat and Mendelsohn seems downright giddy to be in Star Wars movie. His enthusiasm is genuine and infectious.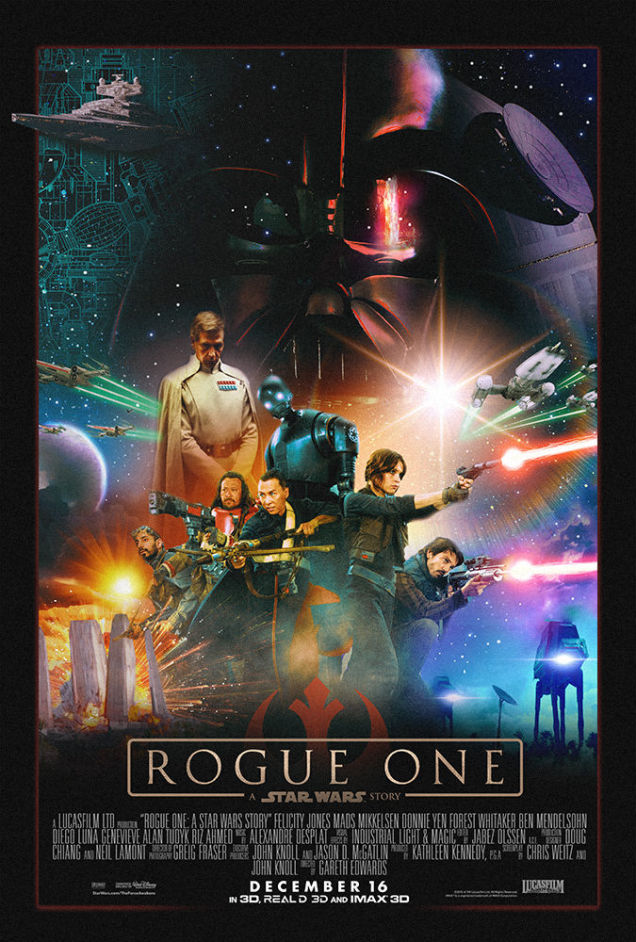 Someday soon, Lucasfilm will release a Rogue One poster and it will probably be colorful and lovely and packed with characters, much like the final one-sheet for Star Wars: The Force Awakens. In the meantime, we can just sit back and enjoy this fan-made poster from artist MessyPandas, whose work here feels very much in line with the saga's aesthetic. I'd be surprised if the final official poster was very different from this.