Star Wars Land Disneyland Layout Revealed In New Concept Art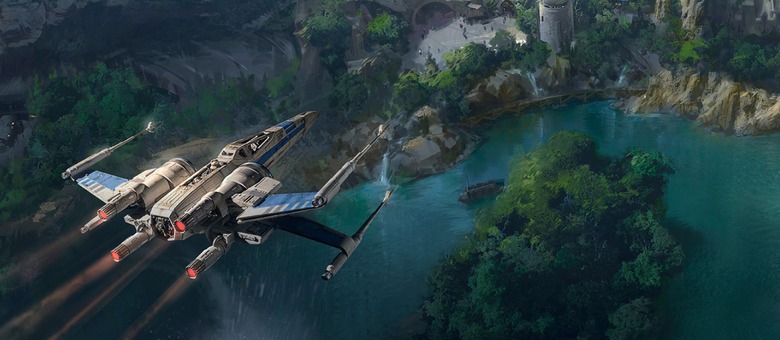 Disney Parks has revealed a new concept art image of the upcoming Star Wars-themed land coming to Disneyland. This piece of art appeared today on the fence along Big Thunder Trail in Disneyland's Frontierland, one of the future entry points to the Star Wars Experience.
Star Wars Land Disneyland Layout Concept Art
Here is the full piece: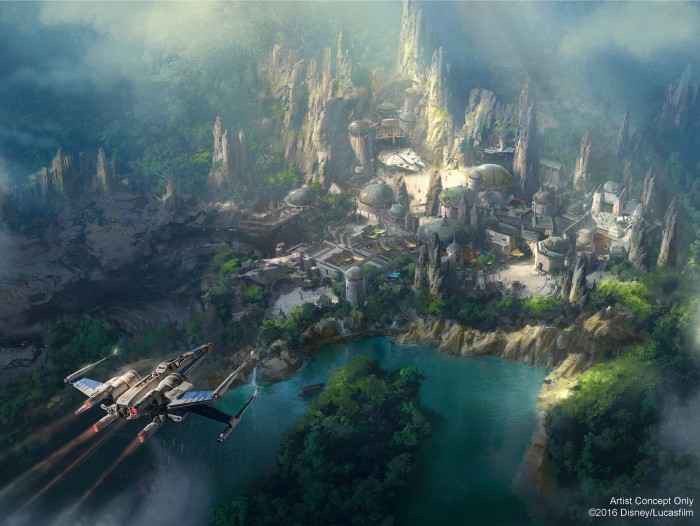 Whats cool about this piece of concept art is it seems to give us a rough layout of what the land will actually look like. Remember some of the early concept art released when they announced the project were more work-in-progress pieces that expressed what the land should feel like.
Nestled between towering spires of rock, this thriving port contains a seemingly familiar architecture of markets, landing zones and buildings. Look closely and you may find hints of some of the thrilling experiences that are coming – like the Millennium Falcon peeking out of one of the cargo bays, marking the location where guests will get the opportunity to pilot the fastest hunk of junk in the galaxy.
Notice the bottom of this piece of concept art features the rerouted Rivers of America. Here is the previously presented concept art from Disneyland:
As you can see, the layout looks a bit different than whats planned for Hollywood Studios in Walt Disney World in Florida. And here is the map that Micechat previously reported which gives you a better idea of what is located where:
The 14-acre new land, expected to be called The Star Wars Experience, promises to "bring this galaxy to life" through the combined forces of Lucasfilm and Disney Imagineering. Guests will have the chance to take "complete control" of the Millennium Falcon, and get caught up in the middle of a battle between the Resistance and the First Order. Or, if you're in the mood for something a little less adrenaline-pumping, you can walk around Star Wars Land "meeting droids and aliens," "entering an otherworldly street market," "actually tasting the local delicacies" (including blue Bantha milk), "going upscale at the planet's best dinner club," or "heading down to the local cantina." If you haven't already seen the bevy of previously released Star Wars Land concept art, head over there now.