'Jason Bourne' Clips: Matt Damon Talks To Tommy Lee Jones And Runs From Vincent Cassel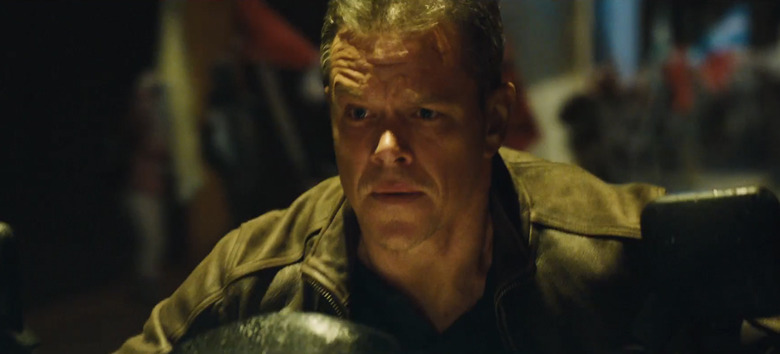 The summer of sequels is coming to an end later this month with Star Trek Beyond and Jason Bourne arriving late this month. However, we could probably call Suicide Squad as much of a sequel as it is a spin-off to start a new franchise, so maybe it's coming to an end at the beginning of August. Anyway, closing out July will be the return of Matt Damon as the covert operative with the worst memory ever, and three new Jason Bourne clips give us a taste of what's in store for the Treadstone assassin this time.
Here's the three new Jason Bourne clips from Flicks and the City:
Here's more footage from the opening sequence where Jason Bourne is back on the radar with his old friend Nicky Parsons in play as well. A previous TV spot from Universal seemed to tease that Julia Stiles' character might finally meet her end, which would be a brutal way for us to get back into the Bourne universe, but that might be just the inciting incident to piss Bourne off enough to get back into action. Plus...
As another TV spot has indicated, part of the plot in Jason Bourne revolves around the operative learning that he was told a lie about his father in order to get him to join Treadstone. In this exchange between Bourne and the new characters played by Alicia Vikander and Tommy Lee Jones, it's Bourne's father who becomes the topic of conversation. What secrets does Bourne not know about his life yet?
Finally, here's a tease of a huge car chase through the Las Vegas strip. This clip is an interesting one, because not only does it give us our first look at Vincent Cassel's place in the film, but it seems to indicate that he might not be working within the confines of his job. Wearing a SWAT vest and an earpiece, he's chasing Bourne in a SWAT truck, but for some reason he's keen to lose the cops who are also in pursuit. Wouldn't they be working together? Maybe he's been tasked with taking out Bourne outside of the law.
Here's hoping that Jason Bourne ends up being worth the wait at the end of the month. With director Paul Greengrass back in play, I think we'll be just fine. But this summer has already seen some disappointing sequels, so I'm doing my best to keep the hype in check.
Matt Damon returns to his most iconic role in Jason Bourne. Paul Greengrass, the director of The Bourne Supremacy and The Bourne Ultimatum, once again joins Damon for the next chapter of Universal Pictures' Bourne franchise, which finds the CIA's most lethal former operative drawn out of the shadows.
For Jason Bourne, Damon is joined by Alicia Vikander, Vincent Cassel and Tommy Lee Jones, while Julia Stiles reprises her role in the series. Frank Marshall again produces alongside Jeffrey Weiner for Captivate Entertainment, and Greengrass, Damon, Gregory Goodman and Ben Smith also produce. Based on characters created by Robert Ludlum, the film is written by Greengrass and Christopher Rouse.
Jason Bourne opens July 29.