'HarmonQuest' Trailer: Dan Harmon Brings His Role-Playing Games To Life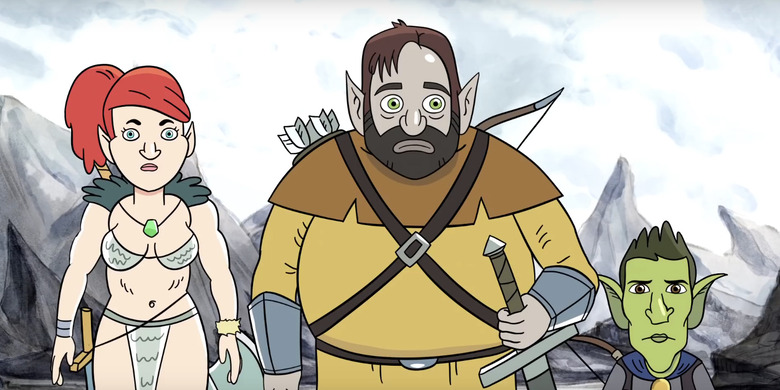 If you've watched Community or Rick and Morty, or you listen to Harmontown, then you know that television creator, writer and producer Dan Harmon is a huge nerd. He loves sci-fi and fantasy and one of his many geeky vices is role-playing games. However, if you're not a good friend of his, that doesn't mean you can't enjoy his role playing adventures.
HarmonQuest is a new series coming to the online comedy streaming service Seeso that lets you watch Dan Harmon play Pathfinder with some of his comedian friends, including the likes of Paul F. Tompkins, Chelsea Peretti, Aubrey Plaza, Ron Funches and more. However, just so you're not watching some comedians in a room playing Dungeons & Dragons, the show also animated the quests as they happen.
Watch the HarmonQuest trailer after the jump.
If you're not familiar with Seeso (which costs just $3.99 a month), it's the perfect streaming service for comedy nerds. It's chock full of exclusive stand-up, episodes of your favorite comedy series, including a bunch from across the pond, and new original series like Hidden America with Jonah Ray, and obviously, HarmonQuest.
Basically, this show looks like Shorties Watchin' Shorties, where comedian stand-up sets were animated into cartoon shorts, but with the new fantasy angle in play instead. It's cool to see that Dan Harmon has found something cool to do with his nerdy passions, and bringing his comedian friends into the fray to play the game, each with varying interests in fantasy in general, only makes this that much more appealing.
If you'd like to see more, here's a clip where Paul F. Tompkins' character is set on fire:
Adapted from an improv segment on his Harmontown podcast, the part animated, part live-action series brings Harmon and his comedian friends together to play fantasy roleplaying game Pathfinder. All 10 episodes were shot in front of a live audience last year, and feature comedians Erin McGathy, Jeff B. Davis and "Game Master" Spencer Crittenden. Special guests include Aubrey Plaza, Ron Funches and Paul F. Tompkins, who join Harmon and Co. as they dream up increasingly absurd characters within the Dungeons realm.
All 10 episodes of HarmonQuest come to Seeso (find out how to subscribe right here) starting on July 14.