Find Out What Ray Parker Jr. Thinks About The New 'Ghostbusters' Theme Song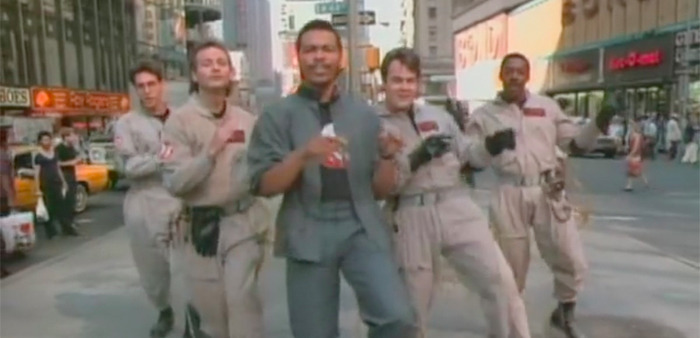 The new Ghostbusters theme song from pop punk band Fall Out Boy featuring a rap interlude by Missy Elliott is nearly universally hated. Personally, I don't think it's flat out terrible, but it's also not very good. However, one man thinks that if Sony Pictures would have called him, then he could have helped to give the song some ties to the original. That man is Ray Parker Jr. Find out what Ray Parker Jr says about the new Ghostbusters theme song after the jump.
Inside Edition interviewed Ray Parker Jr. about the new theme, and here's their clip:
The way Ray Parker Jr. talks about the Ghostbusters theme explains that he wasn't originally slated to write an entire theme song that would represent the movie. As Parker says in the interview, the song was originally only in a small part of the movie with about 20 seconds heard in the film. But director Ivan Reitman liked what he did so much that he wanted a longer version. Parker goes on to explain that a bunch of splicing and repetition was done to extend the song, which explains why there's not much to it as a whole, though it's obviously very catchy because of the repetitive nature of the song.
Some fans are wondering why Sony Pictures didn't ask Ray Parker Jr. to return and update his own theme, and the musician even tells Inside Edition that he wishes he would have gotten the call to help "the younger guys" create a new theme song. But there's probably a good reason that Ray Parker Jr. didn't get the call, and that's because he was sued over the original Ghostbusters theme song.
Huey Lewis filed a lawsuit against Ray Parker Jr., because he believed the Ghostbusters theme song infringed on the copyright for the song "I Want a New Drug" by Huey Lewis and the News. If you'd like to hear how the songs compare to each other right here:
Funnily enough, Huey Lewis and the NEws would go on to earn just as great of soundtrack fame as Ray Parker Jr. with "The Power of Love" and "Back in Time" for the Back to the Future soundtrack. Anyway, the lawsuit was settled out of court in 1995 with no details of the settlement revealed.
So it's easy to see why Ray Parker Jr. wasn't called in to help with the new theme, and it's not as if he's been pumping out a lot of music late in his career anyway. That's not to say that what Fall Out Boy and Missy Elliott did turned out to be any better than what Ray Parker Jr. may have helped them craft, but we'll never really know. But we do know that Ray Parker Jr. did try to replicate his success with more movie themes, thanks to a sketch from Key & Peele.