'Other People' Trailer: Jesse Plemons And Molly Shannon Laugh In The Face Of Cancer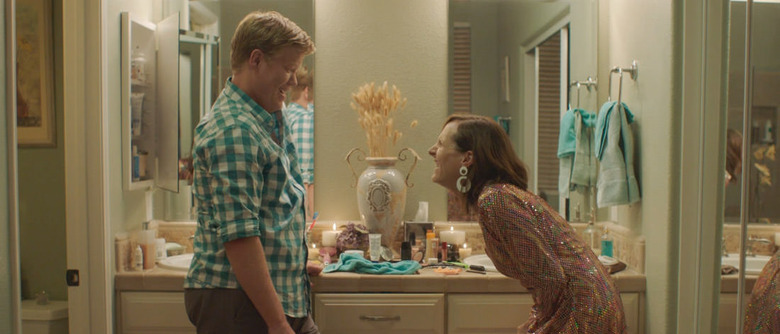 In terms of an acting career, Jesse Plemons is without a doubt one of the most successful Friday Night Lights alums of all time. He's had major roles in Breaking Bad and Fargo, and popped up in films by the likes of Paul Thomas Anderson and Steven Spielberg. But he's never really gotten to be a leading man until now.
Other People was one of the first films to play at the Sundance Film Festival this year, and, by our estimation, one of the best. The feature directorial debut of veteran Saturday Night Live scribe Chris Kelly, it stars Plemons as a gay comedy writer who returns home from New York to Sacramento to care for his dying mother (played by Molly Shannon in an exceptional performance). It's funny and sad in equal measure, and above all feels authentic — no wonder considering Kelly based the film on his own experiences. Watch the Other People trailer below. 
Yahoo shared the first Other People trailer.
The Other People trailer feels a bit awkward, but maybe that's just because it's really hard to distill its funny-sad tone down into a two-minute trailer. The film does a much better job of striking that balance, as I wrote in my Sundance review:
Comedy and tragedy can be tough to blend, especially when it comes to a topic as heavy as cancer (the disease afflicting David's mom Joanne, played to perfection by Molly Shannon). But Other People maintains that balance better than most. There are plenty of laugh-out-loud moments, many of which are intermingled with sob-out-loud moments. It helps greatly that first-time director Chris Kelly maintains a low-key, naturalistic vibe throughout. When a sad moment yields some laughs, or a funny moment gives way to a tearjerking one, it doesn't feel like he's pulling the audience from one extreme to another. It just feels like the way sad and funny actually do mix, all the time, in real life.
Also helping to find humor in sadness is a top-notch supporting cast including Bradley Whitford, Retta, Zach Woods, Matt Walsh, and Lennon Parham. You'll also want to keep an eye out for John Early (who was recently seen in Neighbors 2: Sorority Rising) and J.J. Totah (who'll next be seen in Spider-Man: Homecoming along with what seems like every other actor in town).
Other People opens September 9.