'The Flash' Casts 'Dope' Star Kiersey Clemons As Iris West [UPDATED]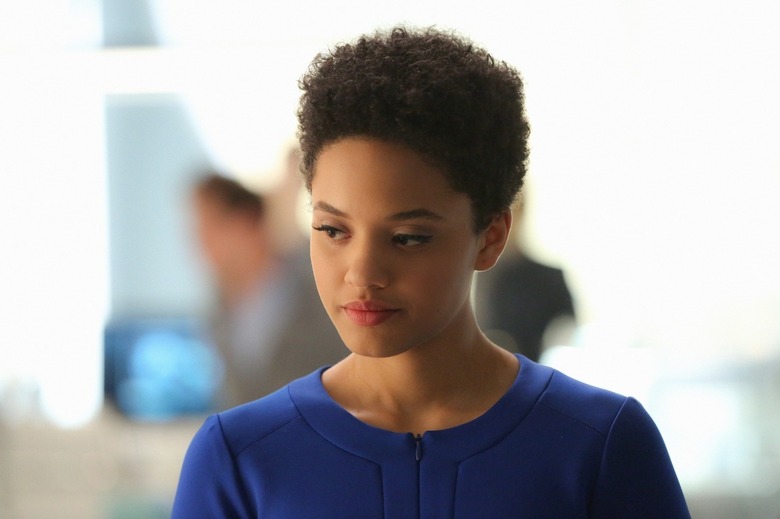 UPDATE #2: Variety confirms Kiersey Clemons has closed a deal to play female lead Iris West in Rick Famuyiwa's The Flash. Our original story from July 8, 2016 follows.
When Warner Bros. needed a new director for The Flash, it looked to Dope and picked up filmmaker Rick Famuyiwa. And now that Warner Bros. is starting to cast The Flash, it's borrowing from Dope again. Kiersey Clemons, who worked with Famuyiwa on that Sundance charmer, has reportedly emerged as the frontrunner to play the female lead in The Flash, opposite Ezra Miller as Barry Allen.
UPDATE #1: The Hollywood Reporter's Borys Kit adds that Rita Ora (Fifty Shades of Grey) and Lucy Boynton (Sing Street) are also in the running. More below.
Variety reports Clemons is Famuyiwa's top pick for The Flash female lead, but no deal has closed yet. Details on her character are being kept under wraps but it seems likely she'll play Iris West, a journalist who is Barry Allen's friend and eventual love interest. The character is currently played by Candice Patton in The CW's The Flash television series, with Grant Gustin playing the Flash.
Clemons had been bouncing around television for a few years already when she nailed a breakthrough turn in Dope. Her other recent credits include the Amazon dramedy Transparent and the CBS sci-fi Extant, and she was most recently seen on the big screen in the (surprisingly good) Neighbors 2: Sorority Rising. She has also booked a role in the planned Flatliners remake with Ellen Page, Diego Luna, James Norton, Nina Dobrev, and Kiefer Sutherland.
The Flash was originally going to be the feature directing debut of Dark Shadows and Abraham Lincoln: Vampire Hunter writer Seth Grahame-Smith. He wrote a script based on a treatment by The Lego Movie's Phil Lord and Chris Miller (who were also considering helming at one point, before they got called away to the Han Solo movie), but left the project over "creative differences" with Warner Bros. in April. Famuyiwa came on board a few weeks later.
Miller made his debut as the Flash in this spring's Batman v Superman: Dawn of Justice, and will reprise the role for next fall's Justice League. Based on Peter's report from the set of that film, it already sounds like Miller's Barry Allen will be a fan favorite. The Flash's solo movie begins shooting later this year for release on March 16, 2018.