The 'Ghostbusters' Remake Will Address All Of Those Whiny YouTube Downvoters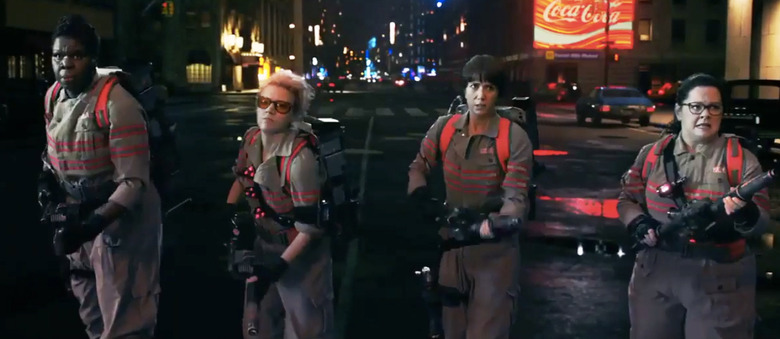 Paul Feig's Ghostbusters remake was under fire the moment it was announced, with a certain segment of the original film's fans going above and beyond the call of duty to prove that they could blindly and loudly hate with the best/worst of 'em. Gallons of digital ink have been spilled about this subject over the past year or so, but I think most of us can agree that the toxic response to the trailer has been wildly disproportionate with other major summer releases whose previews are equally unimpressive. Gee, I wonder what makes this movie different from so many others?
Anyway, early buzz suggests that Ghostbusters is a good movie and the first wave of reviews should be arriving on Sunday. In the meantime, let's just enjoy the news that the film apparently has a scene where the leading ladies reference all of that ridculous online hate.
Yahoo Movies sat down with stars Melissa McCarthy and Kristen Wiig, who set the stage for talking about this scene. It seems that Feig and Katie Dippold's screenplay already featured a scene where the team uploads a video with YouTube and is met with a toxic response, so they decided to run with it and address the actual internet "controversy":
"It was added [to the script]," explains Melissa McCarthy who plays paranormal investigator Abby Yates in the film.
"I feel like the part was in [the script] already," says Kristen Wiig, "But we changed what was said."
"We did something on the day that slightly tweaked it," McCarthy added.
This is very much in line with how Feig tends to direct his movies. There is always a screenplay, but after the first or second take, he generally allows his performers to riff and improvise and try anything they want. This is often why his final films are so much funnier than the trailers – he deliberately saves the funniest takes for what you see when you sit down in the theater.
This scene is a direct reference to how the Ghostbusters trailer inexplicably became the most disliked movie trailer in YouTube history, but reality has shown us that this kind of scene was necessary from the get-go. After all, if a group of whiny fanboys are this angry that women are starring in a remake of a movie where Dan Aykroyd gets a blowjob from ghost, they'd probably be sexist, anonymous jerks to real-world ghost hunters too.
Ghostbusters arrives in theaters on July 15, 2016.