Original 'Flatliners' Star Kiefer Sutherland Joins 'Flatliners' Remake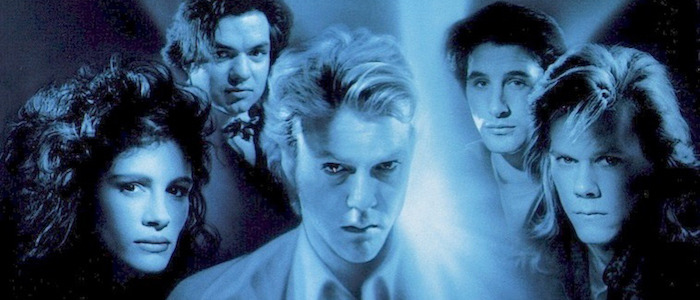 Sony is trying to revive Flatliners, and they're enlisting Kiefer Sutherland to help them out. The actor, who starred in the original Flatliners from 1990, has signed on for the upcoming remake, which will star Ellen Page, Diego Luna, Nina Dobrev, James Norton, and Kiersey Clemons. Niels Arden Oplev is directing the new version. 
Deadline reports the Kiefer Sutherland Flatliners casting is not a done deal, but that he is "committed" to joining the cast after working out a schedule so he could do both the movie and his ABC series Designated Survivor. Sutherland will play a "seasoned doctor" in the new movie. No word on how or if his role will connect to his part from the original film.
Directed by Joel Schumacher, the original Flatliners starred Sutherland, Julia Roberts, Kevin Bacon, Billy Baldwin, and Oliver Platt as five medical students curious about what lies beyond death. They purposely trigger near-death experiences by stopping their hearts so they can explore the afterworld before they're resuscitated by the others. But as the experiments go further and further, the consequences start to spiral out of control.
Flatliners seems like a curious choice to get the remake treatment because the original didn't make a huge impression. It got mixed reviews and earned decent money, but it doesn't have a huge fanbase and it seems unlikely anyone's spent the past 26 years wishing for more Flatliners. What it does have, though, is a great concept. And the fact that it lacks a devoted fandom may actually be a plus, since that means the filmmakers are freer to do what they want without pissing off any diehard fans.
Director Oplev's credits include The Girl With the Dragon Tattoo and the Mr. Robot pilot. The script comes from Ben Ripley, best known for Source Code. Michael Douglas, who produced the original, will also produce the remake with Laurence Mark. Shooting is set to begin in Toronto later this week.
Sutherland is coming off of the 24 revival and the Western drama Forsaken, in which he starred opposite his father Donald Sutherland. He also had a small but amusing role as a fictionalized version of himself in the otherwise pretty terrible Zoolander 2.