'Sing' Extended Trailer: Cute Animated Animals Sing Slightly Stale Pop Hits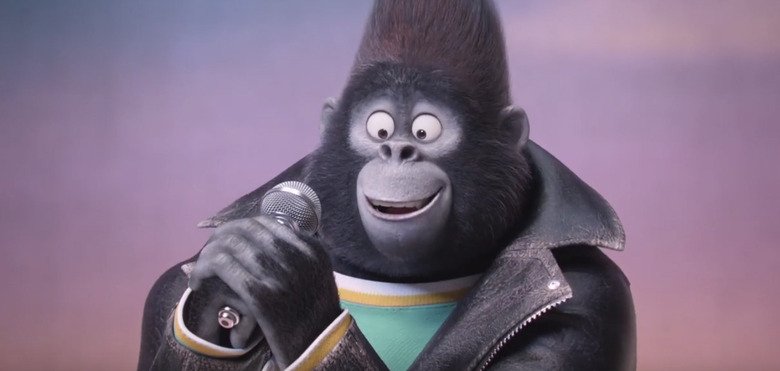 If you're a big fan of movies about animated animals doing stuff, 2016 must be a banner year for you. We've already seen Kung Fu Panda 3, Zootopia, Angry Birds, and Finding Dory, and The Secret Life of Pets and Ice Age: Collision Course still on the way this summer. Then the end of the year brings Sing, Illumination Entertainment's take on an American Idol-style show.
Garth Jennings (Son of Rambow) directs an all-star cast that includes Matthew McConaughey as a koala who launches a singing competition to save his failing theater, while Scarlett Johansson, Reese Witherspoon, Taron Egerton, Seth MacFarlane, and Tori Kelly give voice to the contestants. Although they're all animals living in an all-animal world, they seem to enjoy many of the same pop hits we humans do, including Katy Perry's "Firework," Lady Gaga's "Bad Romance," Sam Smith's "Stay With Me," and Nicki Minaj's "Anaconda" (or maybe it's Sir Mix-a-Lot's "Baby Got Back"), Digital Underground's "The Humpty Dance," and at least 80 more. Watch the supersized four-minute Sing trailer below.
How charming you will find this trailer really depends on your tolerance for cute animals singing covers of warmed-over pop hits from five years ago. Mine is... not very high, to be honest. But Illumination Entertainment's recent track record — which includes The Secret Life of Pets, Minions, and the Despicable Me movies – is pretty decent. They may not reach the heights of Pixar or Disney Animation, but they tend to turn out solid, safe features that'll amuse kids without annoying adults too much. In other words, this one is probably going to be a huge hit come Christmas, when every family is scrambling to find something in theaters that everyone from their 5-year-old niece to their 80-year-old great aunt can watch.
Sing opens December 21.
Illumination has captivated audiences all over the world with the beloved hits Despicable Me, Dr. Seuss' The Lorax, Despicable Me 2 and Minions, now the second-highest-grossing animated movie in history. Following the release of The Secret Life of Pets in summer 2016, Illumination presents Sing at the holidays. Matthew McConaughey, Reese Witherspoon, Seth MacFarlane, Scarlett Johansson, John C. Reilly, Taron Egerton and Tori Kelly star in a musical comedy about finding the shining star that lives inside all of us.
Set in a world like ours but entirely inhabited by animals, Sing stars Buster Moon (Academy Award® winner Matthew McConaughey), a dapper Koala who presides over a once-grand theater that has fallen on hard times. Buster is an eternal optimist—okay, maybe a bit of a scoundrel—who loves his theater above all and will do anything to preserve it. Now facing the crumbling of his life's ambition, he has one final chance to restore his fading jewel to its former glory by producing the world's greatest singing competition.
Five lead contestants emerge: A mouse (Seth MacFarlane) who croons as smoothly as he cons, a timid teenage elephant (Tori Kelly) with an enormous case of stage fright, an overtaxed mother (Academy Award® winner Reese Witherspoon) run ragged tending a litter of 25 piglets, a young gangster gorilla (Taron Egerton) looking to break free of his family's felonies, and a punk-rock porcupine (Scarlett Johansson) struggling to shed her arrogant boyfriend and go solo. Each animal arrives under Buster's marquee believing that this is their shot to change the course of their life.
Featuring more than 85 hit songs, Sing is written and directed by Garth Jennings (Son of Rambow, The Hitchhiker's Guide to the Galaxy) and produced by Chris Meledandri and Janet Healy. Released by Universal Pictures, Sing arrives in theaters for the holiday season on December 21, 2016.