Steven Soderbergh Might Direct, Will Definitely Produce A Movie About The Panama Papers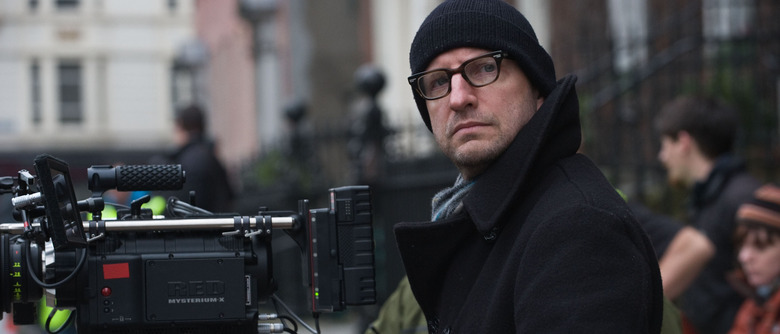 Steven Soderbergh is great at many things, but he is terrible at retirement. He spent his break away from film directing working in TV and theater and serving as a DP to his former AD. Eventually he decided to give up on this whole "retirement from movies" thing altogether and started prepping Logan Lucky as his next feature, and now he's lined up another movie after that.
As announced by Grey Matter Productions and Anonymous Content, Soderbergh will produce and potentially direct a movie based on the Panama Papers. In one of the largest data leaks in history, 11.5 million documents from Panamanian law firm Mossack Fonesca were revealed, detailing the legal and illegal ways that the rich and powerful hide their money. More on the Steven Soderbergh Panama Papers movie below. 
Soderbergh's Panama Papers project will be based on the forthcoming book Secrecy World, by Pulitzer Prize-winning journalist Jake Bernstein. The book reportedly includes "all-new details about the Panama Papers, including revelations about the financial machinations of rulers and royalty, the illegal activities connected to dozens of banks, and the extent to which U.S. companies and citizens are involved."
Bernstein is part of the International Consortium of Investigative Journalists, who spent over a year analyzing the documents leaked by a still-anonymous whistleblower. The first stories about their findings were published in April of this year. Mossack Fonesca's clients included many high-ranking political figures, heads of state, and their close associates, along with other prominent figures including Jackie Chan, Pedro Almodovar, and Emma Watson.
Lawrence Grey, Michael Sugar, and Scott Burns will produce along with Soderbergh, while Jake Bernstein and Ben Everard are executive producers. No screenwriter or stars have been named at this point. The project got going when Grey Matter Productions scooped up the rights to Bernstein's book. Soderbergh has "an eye to direct" as well as produce, but it doesn't sound like he's quite ready to commit on that front.Last year, Soderbergh went into some of the reasons he'd decided to step away from making movies:
Just from my very personal, subjective point of view, I don't have an interest in making another theatrical film unless my attitude changes or the business changes. There are a series of things that have contributed to it — I think the audiences have a played a role, the studios have a role in it — but film is increasingly fear based in its decision-making, and that's not a good base to be creative.
We'll have to wait and see how things pan out with his new movie projects, but from here Panama Papers sounds like a bold and interesting choice of subject.