VOTD: 'Batman V Superman' Opening Scene Edited Together With The 'Man Of Steel' Final Battle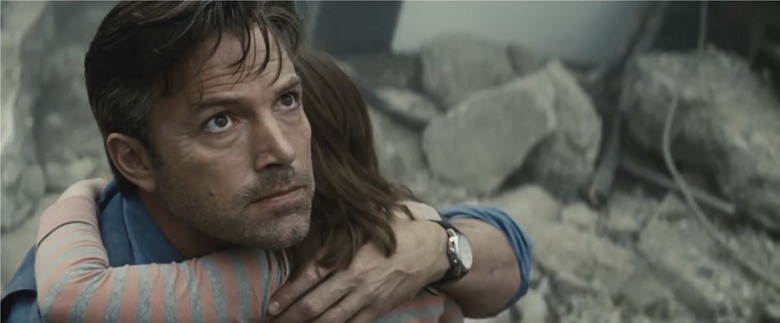 The first 10 minutes of Batman v Superman: Dawn of Justice (and the Ultimate Edition) is a flashback where Bruce Wayne (Ben Affleck) rushes into Metropolis to help save as many people as he can. The sequence takes us back to the climax of Man of Steel where the world engine is dispatched with, but Superman (Henry Cavill) and General Zod (Michael Shannon) have it out one last time, destroying much of the city in the process. However, Batman v Superman only gives us Bruce Wayne's perspective while Man of Steel focuses on Superman. But one fan has fixed that.
A new video put together by a fan takes footage from both the Batman v Superman opening scene and the Man of Steel climax and combines them into a singular scene where we get the perspective of both of our heroes during this destructive action sequence. Watch the Batman v Superman and Man of Steel mash-up after the jump.
The Film Guy put this together (in case you didn't notice the watermark), but the credit goes to director Zack Snyder for creating the extremely seamless continuity between the scenes from the climax of Man of Steel with this opening scene from Batman v Superman. Even the way General Zod's laser vision flashes around the building matches up perfectly, something fans noticed when part of the Batman v Superman footage was included in one of the earlier trailers for the film.
As someone who didn't love Batman v Superman, I have to say that the opening sequence of the film is one of my favorite parts. It makes for the perfect introduction to Ben Affleck as Bruce Wayne, and is a great way to set up his angry Batman for the rest of the movie. It'll be interesting to see how Justice League evolves from what we saw in Batman v Superman knowing what we know from the set visit from not too long ago.