'Goat' Trailer: Nick Jonas Leads A Frat Drama About The Perils Of Hazing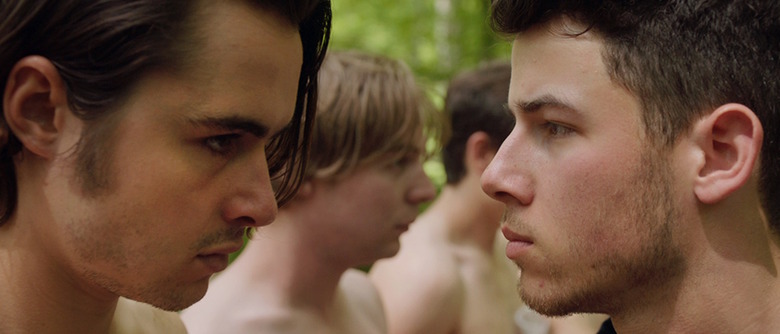 It's no secret that fraternity hazing can be an nasty and demeaning experience. Even films and TV series that show Greek life in an affectionate light feature at least a few scenes of pledges undertaking painful or humiliating tasks. But Andrew Neel's Goat, which premiered at Sundance earlier this year, reveals just how ugly it can get.
Based on a memoir by Brad Land, the drama stars Ben Schnetzer as a 19-year-old college student recovering from a brutal assault. He decides to rush a frat that his slightly older brother (Nick Jonas) already belongs to, and soon finds himself surrounded by a toxic stew of violence, aggression, and abuse even more traumatizing than the earlier attack. David Gordon Green helped with the script, James Franco has a cameo as an alum who can't let go of his frat boy days, because it's not a real indie drama unless James Franco is rattling around in there somewhere. Watch the first Goat trailer after the jump.
MTV unveiled the first Goat trailer.
Nick Jonas (the youngest of the Jonas Brothers) has been getting a lot of attention lately for his acting work, with roles in the TV series Scream Queens and Kingdom among other things. But Schnetzer may have the most to gain here. He's coming off of Warcraft, which may be doing great in China but did horribly here, so he could use a win. And reviews from Sundance have singled him out as one of Goat's highlights. In a rave of Schnetzer's "breakout performance," The Hollywood Reporter writes, "Playing a character who's always observing, but struggling to participate, he makes Brad often seem stronger than his damaged assessment of himself would indicate. But his intense vulnerability gives the movie its bruised heart."
Otherwise, Goat has gotten mostly positive reviews. "It is a film with cumulative power by virtue of its well-drawn, well-performed characters more than its overall sociological impact," says RogerEbert.com in one representative review. "When the film feels like it's reaching outside of its world to comment on masculinity as a whole, it falters a bit. When it stays focused on the harrowing story it tells, it connects." So Goat may not exactly be light viewing — if you want a breezier take on the college experience, maybe try Neighbors 2: Sorority Rising — but it sounds worth a look for those who like its young cast, or the earlier work of director Neel (including King Kelly).
Goat opens in theaters and on demand September 23.
Reeling from a terrifying assault, a 19 year-old boy enrolls into college with his brother and pledges the same fraternity. What happens there, in the name of "brotherhood" tests the boy and his loyalty to his brother in brutal ways.