Danny McBride Talks 'Alien: Covenant'; Behind-The-Scenes Video Showcases Practical Effects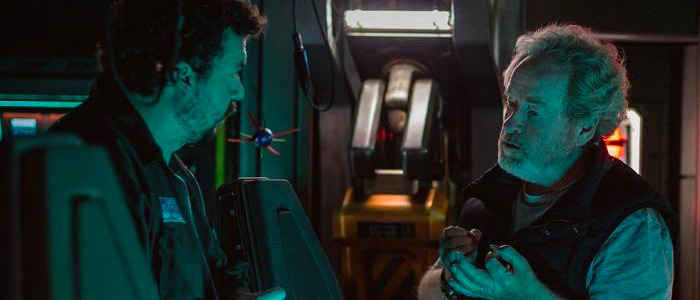 This is a pretty good summer for Danny McBride. He has his latest HBO show, Vice Principals, premiering soon, and he's currently shooting Ridley Scott's Alien: Covenant in Australia. Co-creating another potential success like Eastbound & Down and getting to work on an Alien movie? That's hardly a bad way to spend the summer. When we heard about McBride's casting in the sequel, his role was unclear, but the actor says he's playing the captain of the spacecraft Covenant.
Below, Danny McBride discusses Alien: Covenant.
In the sequel, McBride stars alongside Katherine Waterston, Michael Fassbender, Billy Crudup, and Demián Bichir. After some speculation, it was finally confirmed Noomi Rapace is also returning to play Elizabeth Shaw. The plot synopsis says the crew members of the Covenant discover a plant that's sole inhabitant is the "survivor of the doomed Prometheus expedition," David (Fassbender).
In a very entertaining interview with Rolling Stone, McBride, who once hilariously butchered Alien's famous tagline in 30 Minutes or Less, opens up a little about his role in the film and his experience of working with Ridley Scott:
You're shooting Alien: Covenant right now. What can you tell us about it?  
I'm the pilot of the spaceship Covenant, which is a colonization ship, searching for a planet where we might start life anew. I run the ship.
Are you in a harness for eight hours a day, yelling at a green screen?
No, I didn't know if it would be all green screen, but most of the stuff is practical effects: when you're running from an alien it's really a dude in an alien suit coming after you! The sets are incredible and you're in them: We go through some inclement weather at one point on the spaceship and this whole gigantic set is on a gimbal, shaking up and down. You don't have to use your imagination.
What's the most impressive thing about Ridley Scott?
He's got so much energy, and he shoots everything with four cameras. We move through stuff fast. When I got here some people said, "Oh man, he does two takes, three takes, tops," but I love it. It creates this attitude on set of, like, "You better fucking come with it because you've got two shots — you better bring it."
Speaking of a real dude in a real alien suit — which isn't surprising, considering how much practical effects Scott typically uses — the Alien series' official Twitter account posted a behind-the-scenes video from Alien: Covenant, featuring an artist working on a xenomorph's hand:
Where it all begins. #AlienCovenant pic.twitter.com/X0aGEEtH3P

— Alien (@AlienAnthology) July 6, 2016
Almost a year ahead of its release, a small teaser of Prometheus played at San Diego Comic-Con. Whether we'll see some footage from Alien: Covenant at this year's Con appears doubtful, but Alien fans can still check out the 30th anniversary panel for Aliens, which James Cameron is attending.
Alien: Covenant opens in theaters August 5th, 2017.